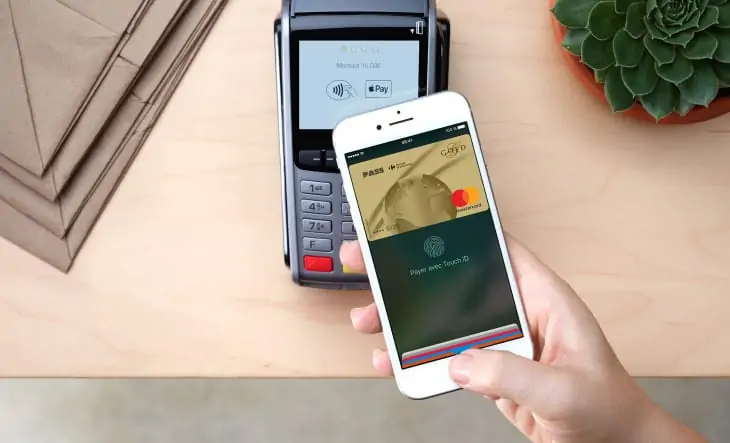 If you want to see exactly which businesses accept Apple Pay right now, here's a full list for physical locations, as well as places that do not accept Apple Pay or have been known to disable it entirely. There are also a bunch of iOS apps that will accept Apple Pay, so scroll down for that list, too. And if you need help setting up and using it, check out the bottom of this guide for some quick walkthroughs.
1

Stores That Accept Apple Pay Right Now

Here's the official list of Apple Pay partners accepting contactless payments in stores. While it does not include every shop, restaurant, or service, you can most definitely be sure that it'll work in these places, as employees have most likely been thoroughly trained to prepare for the questions shoppers will have.

Anyone with a "(confirmed)" next to their name are retailers who aren't on Apple's official list, but who have officially stated they accept Apple Pay.
7-Eleven (confirmed in stores only, not at pumps)
Aéropostale
Albertsons (confirmed)
American Eagle Outfitters
ARCO (confirmed)
Babies"R"Us
Barneys New York
Bashas' Grocery Stores
Best Buy (though their "Payment Methods" page does not mention it)
BJ's Wholesale Club
Bloomingdale's
Carrs (confirmed)
Casey's General Store
Cash & Carry Smart Foodservice
Champs Sports
Chevron
Chevron ExtraMile
Chick-fil-A
Circle K (confirmed in store only, not at pumps)
Coca-Cola Vending Machines
Colorado Rockies (confirmed)
Corner Store
Crate & Barrel
Cub
Dan's Fresh Market (confirmed)
Davis Food & Drug (confirmed)
Detroit Tigers (confirmed)
Dick's Fresh Market (confirmed)
Disney Store
Duane Reade by Walgreens
El Pollo Loco (confirmed)
Express
Farm Fresh Food & Pharmacy
Firehouse Subs
Foot Locker
Footaction
Forever 21 (confirmed)
Fuddruckers
GameStop
GAP
Giant
Giant
Giant Eagle
Golden State Warriors
Haggen (confirmed)
Hannaford
Harveys Supermarket
Hornbacher's
House of Hoops by Foot Locker (confirmed)
Jamba Juice
J.Crew
JCPenney (confirmed)
Jersey Mike's Subs
JetBlue
Jimmy John's Gourmet Sandwiches
Johnny Rockets (confirmed)
Kansas City Royals (confirmed)
KFC
Kids Foot Locker
Lady Foot Locker
Lin's Fresh Market
L.L. Bean
Los Angeles Angels (confirmed)
Luby's
Macy's
Martin's
Maxx Value Foods (confirmed)
McDonald's
Meijer
New York Yankees (confirmed)
Nike
Office Depot
OfficeMax
Old Navy
Orlando Magic
Panera Bread
Pavilions (confirmed)
Pep Boys
Petco
PetSmart
Phoenix Suns
Pizza Hut
QuikTrip
RadioShack (confirmed)
Raley's
Ralph's (confirmed)
Randalls (confirmed)
Rite Aid (confirmed)
Rubio's
Run by Foot Locker (confirmed)
Safeway (confirmed)
Schucks
Sephora
Shop 'n Save
Shoppers
SIX:02
Smart & Final
S-Mart Foods (confirmed)
Sports Authority (confirmed)
Sprouts Farmer's Market
Staples
Starbucks
Stater Bros. Markets
Stop & Shop
Subway
Supervalu
Texaco
T-Mobile (confirmed)
Tom Thumb (confirmed)
Toys"R"Us
Ulta Beauty
Unleashed! by Petco
Vons (confirmed)
Walgreens
Walt Disney World
Wegmans
Whole Foods Market
Winn-Dixie
Stores That Will Accept Apple Pay Soon
The following are businesses that have promised to get Apple Pay compatibility up and running at some point, so be on the lookout. It's possible that some of these have abandoned plans or have actually already begun taking Apple Pay and we just haven't confirmed it yet.
Carmike Cinemas
Edition
Free People
Marriott
Regal Cinemas
Renaissance Hotels
Urban Outfitters
3

Stores That Won't Accept Apple Pay Right Now (Or Ever)

While most stores with the universal contactless smart card reader sign will accept Apple Pay and other NFC-based payments, there are few stores that either haven't added support specifically for Apple Pay yet, have no intention of doing so, or haven't been confirmed to support Apple Pay yet (if you know, let us know in the comments!).

Some stores below had previously partnered with MCX (which was later purchased by Chase) and its now-defunct CurrentC project. Others have partnered with options such as PayPal, Chase Pay, and Buy It Mobility or have come up with their own contactless payment system.

Not all of these merchants below will refuse Apple Pay, but they have not officially accepted it as far as we can tell. Some stores, like CVS, have confirmed disabling NFC card readers to prevent Apple Pay use (though, some renegade stores will still accept it). Ones with asterisks (*) below may now accept Apple Pay but it has not been confirmed yet.
Acme Fresh Market
Alam
Bahama Breeze Island Grille
Banana Republic
Buy Buy Baby
The Capital Grille
Chili's *
Christmas Tree Shops
CVS
Dick's Sporting Goods
Dillard's
Eddie V's Prime Seafood
Exxon Mobil
Face Values
GetGo from Giant Eagle
HMSHost
Hobby Lobby
Home Depot
HyVee
Jack in the Box
K-Mart
Kum & Go
Longhorn Steakhouse
Lowe's
Maggiano's Little Italy
Michaels Arts & Crafts
My Good Market
Olive Garden *
Outback Steakhouse *
Price Rite
Publix
RaceTrac
Sam's Club
Sears
Seasons 52 Fresh Grill
Sheetz
Shell
ShopRite
Southwest Airlines
Sunoco
Target (they do accept Apple Pay on the mobile app, though)
Wawa
Wendy's
Yard House
4

Apps & Websites That Accept Apple Pay Right Now

If you don't like shopping in stores, the below iOS apps have accepted Apple Pay at some point in time and/or currently do right now. While there is no longer a huge list maintained by Apple, we'll try to keep this update as we find new ones that add Apple Pay support on iOS, but keep in mind that Apple Pay has been live since Oct. 2014, so there's probably a lot more apps that use it than just listed below.
5

Apps & Websites That Will Accept Apple Pay Soon

There currently is no official list of apps that have promised to accept Apply Pay payments for purchases made in their apps, but here's what we've heard through the grapevine.
6

Nonprofits That Accept Apple Pay Donations

Apple also notes on their website that the following charities and nonprofits accept Apple Pay donations, so if you're in the giving spirit, give one of these a try.
American Red Cross
Charity: Water
Children's Miracle Network Hospitals
COPD Foundation
Crohn's & Colitis Foundation of America
Feeding America
GlobalGiving
(RED)
St. Jude Children's Research Hospital
Save the Children
The Nature Conservancy
The Water Project
Unicef United States Fund
United Way
WNET New York Public Media
World Vision
WWF
Related posts