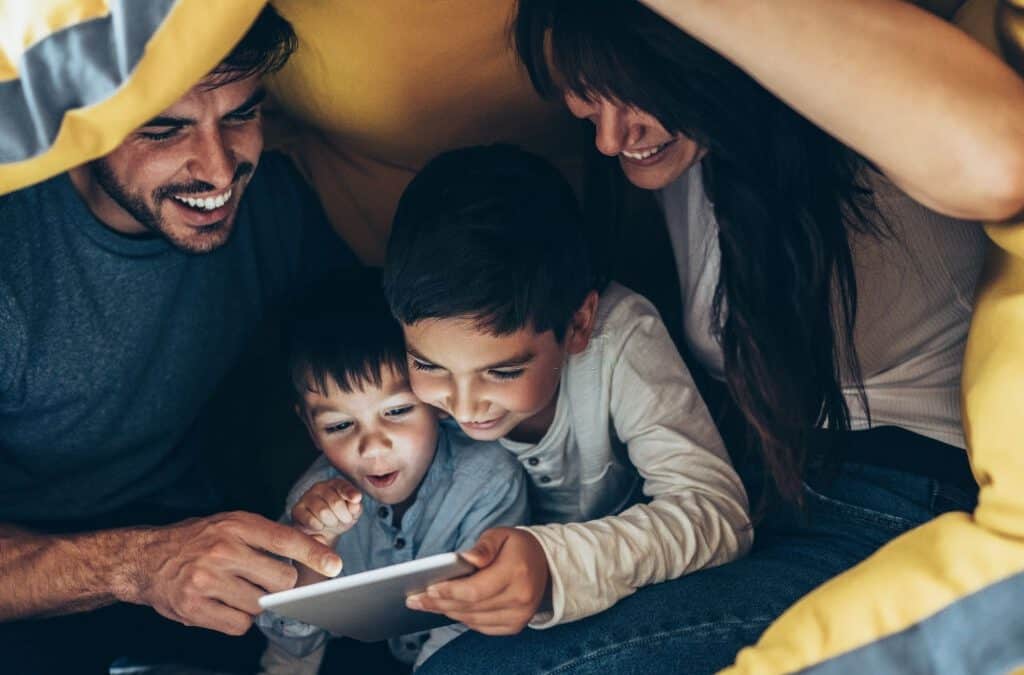 Looking for the best ebook reader app? Well, we at Tipsformobile have drafted a list of the most popular ebooks apps which you have got to check out.
For those of you who are not aware of what ebook reader apps are, let us give you a brief.
What is an ebook reader app?
Like the name suggests it is an e-reader application that can be used on your phones, tablets, and other devices to read books. As these books are available on a device hence the term ebook is given to them.
How to read ebooks?
Well, there are numerous ways by which a person can read an ebook of their choice, they can download them off ebook download sites or opt for ebook torrents.
Either way, these are ways to get ebooks easily. Now how do you read them? (We know it a very basic question but people do ask this from time to time.)
Well, if the format you used to download a book is compatible with your phone then you can use it directly.
If you prefer a more accurate replication of a book, we'd suggest you try to opt for an e-reader.
However, if you wish to read ebooks off your smartphone and don't wish to download ebooks off other sites, we would highly recommend you try an ebook reader app.
Also read:  FlexClip: A Simple and Quick Tool to Create Online Videos
Top 10 ebook reader apps to read books online!
There are numerous ebook apps that claim that they are the best, however, it is hard to distinguish which book app is actually good.
To make the selection process easy we have selected the 10 most popular ebook reader apps which are available for both Android and iOS.
1. Amazon Kindle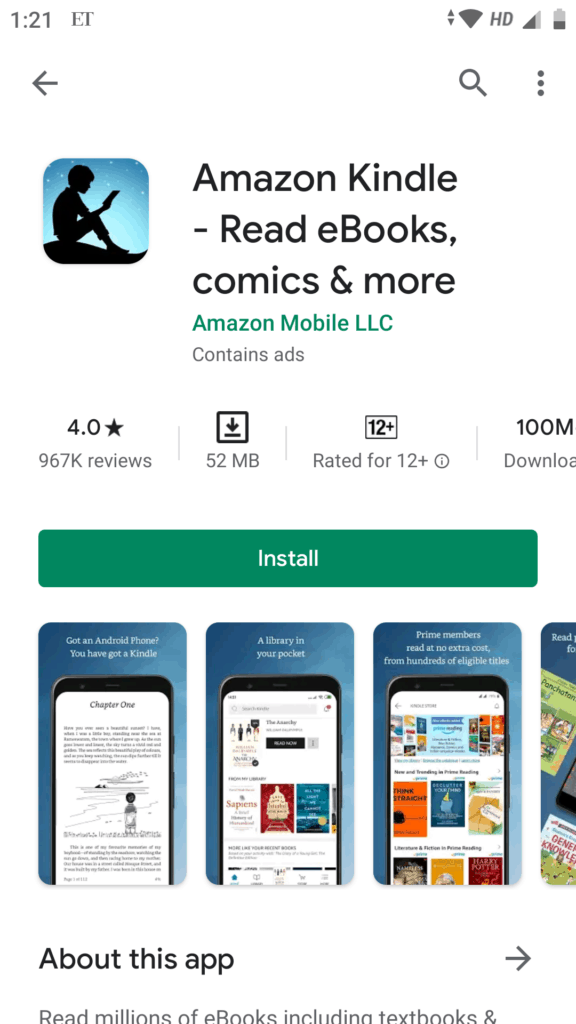 The Amazon Kindle is a great ebook reader app.
The goodness of Amazon Kindle and efficiency of amazon now comes packed in one app, the amazon kindle is an impressive ebook reader app, which lets you access any book that you have purchased on amazon.
The app has impressive features like adjusting the brightness, texture, and even the layout of the pages and adjusting them according to your convenience.
Top Features of Amazon Kindle: 
Amazon kindle has one of the largest libraries compared to any other ebook reader app.
The app is free of cost, and you can sample every book before buying them.
Impressive reading settings.
Price: App is free of cost, the cost of books may vary.
2. Scribd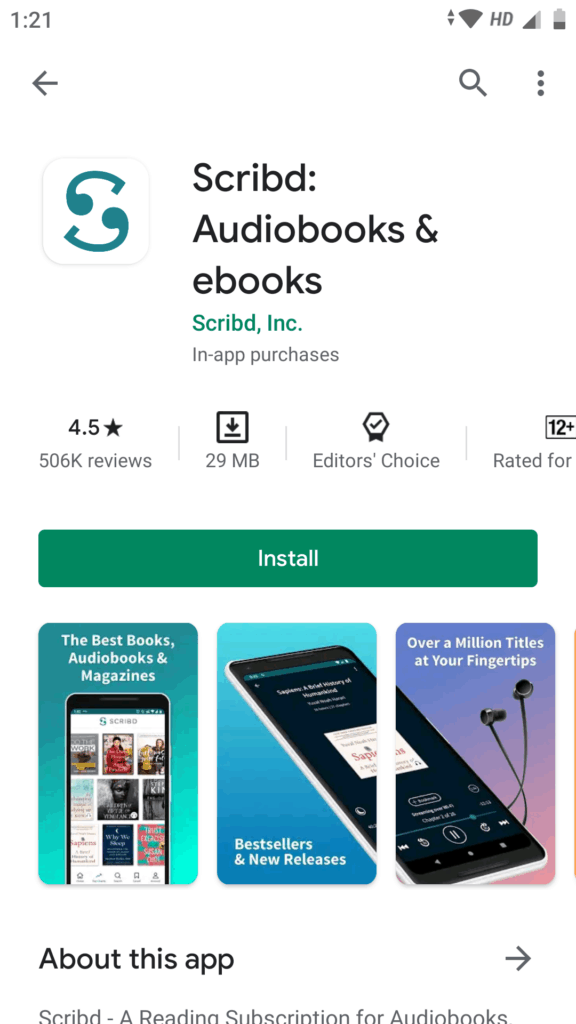 The Scribd is a stunning ebook reader app and rightly so because it has one of the most efficient user interfaces.
The app is entirely free of cost. You can access your library from your phone without any external hassles.
This will get you comfortable while reading. The ebook app lets you adjust the font, brightness and even the margins.
Scribd ebook reader app has an impressive library, with titles from every possible genre you can imagine.
Top Features of Scribd: 
Many of the titles available on Scribd are also available in an audiobook format.
You can sync the app on multiple devices.
You can easily download all the books, so you can access them offline.
Price: $8.99/month
Also read: Essential Tips to Help Improve Your Smartphone Performance
3. Aldiko Book Reader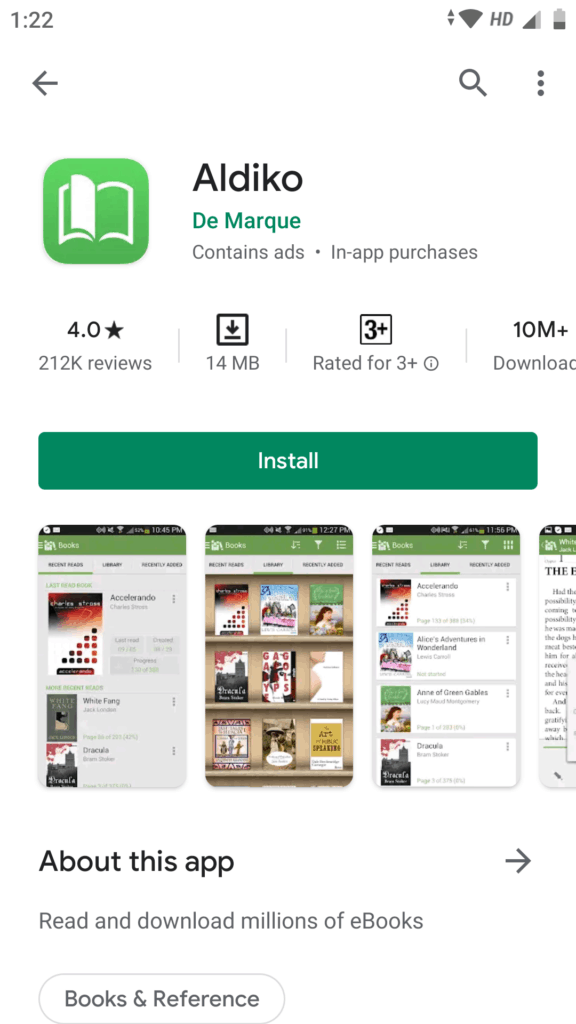 Aldiko is a classic ebook app. It has a minimalist and simple feeling. The app supports multiple reading formats from PDF's to encrypted books.
The searches in this ebook app are global searches, instead of specified searches.
The Aldiko ebook reader app can be synced on your tablet as well as your phone. It is available on both iOS and Android.
The Aldiko ebook app, lets you access millions of magazines, books, and other various forms of publications.
Top Features of Aldiko Book Reader: 
Supports multiple reading formats.
Simple, easy, and efficient to use.
Lets you access its whole library free of cost.
Price: The free version has ads, the paid version is $4.99, without ads.
4. FB Reader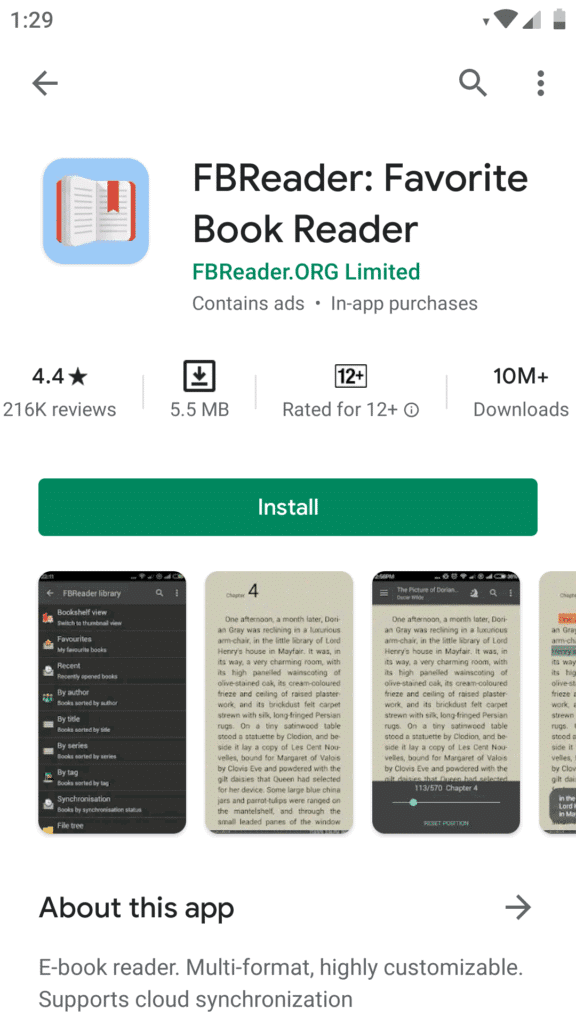 The great thing about the FB Reader ebook app is that it can run on a plethora of software, such as Android, Linux, Mac OS X, Windows, BlackBerry10, and many more.
The reading experience can be personalized easily by changing the colors, font type, size, animations, and even brightness according to your needs.
Other impressive features that the app offers are bookmarks and highlights. The books in the library are also available in multiple languages.
Top Features FB Reader: 
This book reader for android organizes the library according to the authors and even according to titles.
It also comes synchronized with popular dictionaries like SlovoEd, Fora, and ColorDict, this makes it a great reader application.
Price: Free
5. Cool Reader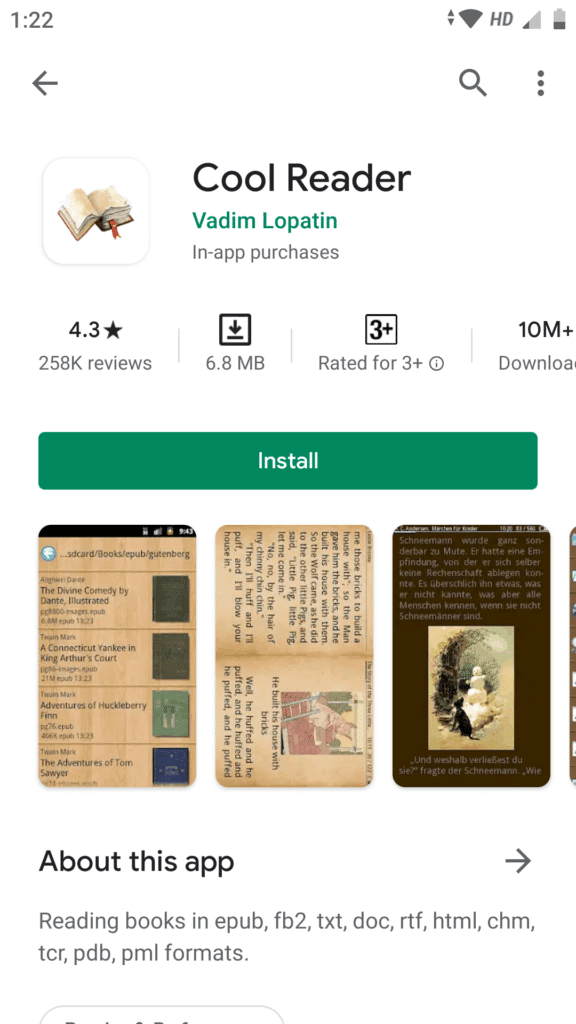 Cool reader, ebook reader app has two different modes for day and night, this makes it easier for all the night owls, to read books comfortably at night, without causing strain to their eyes or disturbing anyone else.
The cool reader is one of the few ereader applications which offers free text to speech conversation, this feature makes it one of the best ebook reader app.
The best thing about this android book reader is the aesthetic appeal to the library. The cool reader ebook app supports many reading formats like ePub, fb2, HTML, RTF, txt, and more.
Top Features of Cool Reader: 
Offers free text to speech conversion.
Offers two different modes for day and night.
Available on both android and iOS.
Price:  App is free of cost.
6. AIReader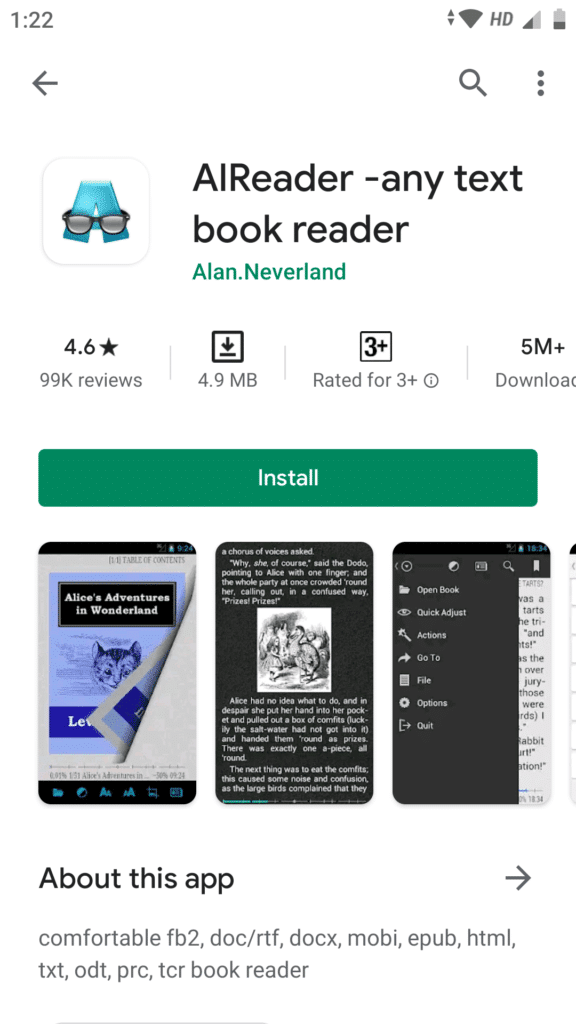 The AIReader is one of the best ebook reader apps due to its state of the art features.
The ebook app constantly displays the Details of the book such you are reading on top of the screen, these include, number of pages left, current page, chapters, etc.
Other impressive features which the android ebook reader has is auto-scrolling, which handsfree scrolling throughout the book.
AIReader ebook app also offers various page-turning animations, which make the app fun to use.
Another amazing feature about the ebook reader app is that it has various customization options like changing the background color, changing the layout, font, style, brightness, etc.
Top Features of AIReader: 
This e-reader application also offers many reader viewing modes to make the reading experience of the user impeccable.
The AIReader ebook app library has books from many genres like romance, thriller, fiction and so many more.
Price:  The app is free to use.
Also read:  Snoopza Review – Android Phone Spy App
7. Nook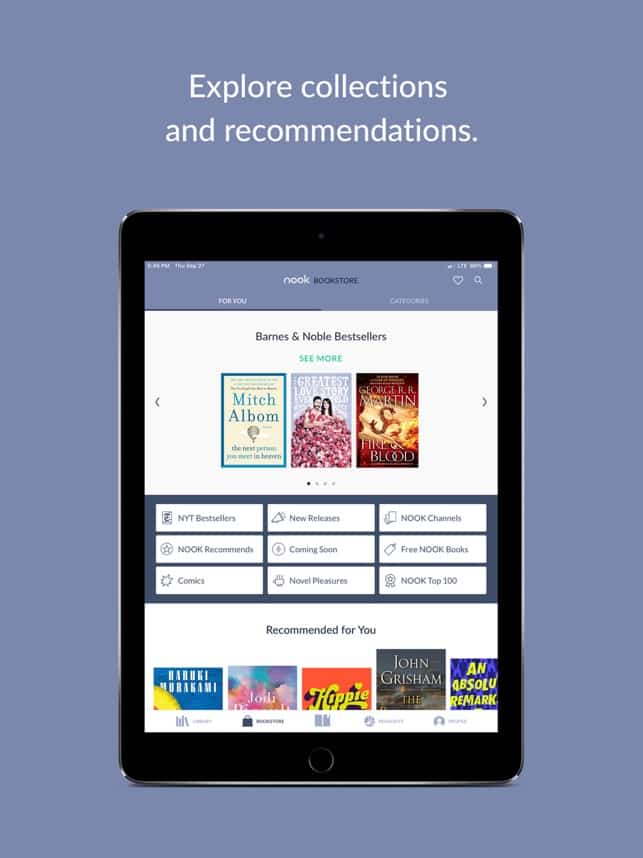 Nook is an ebook reader app that lets you access and read all the famous Barnes and Nobles publications.
Nook ebook app has a limited free period, in which you can access any newspaper and magazine without spending a penny.
You can also add notes to your books, put bookmarks, and even highlight anything interesting or important.
The great thing is, approximately 45,000 titles are free, and you can access them without any hassles.
Top Features of Nook: 
This ebook reader app is available on iOS and Android.
Nook lets you access books, graphics, magazines, and many other forms of content.
It has amazing features like bookmarks, highlights, and even customized reading settings.
Price: The app is free of cost, but has in-app purchases.
8. Wattpad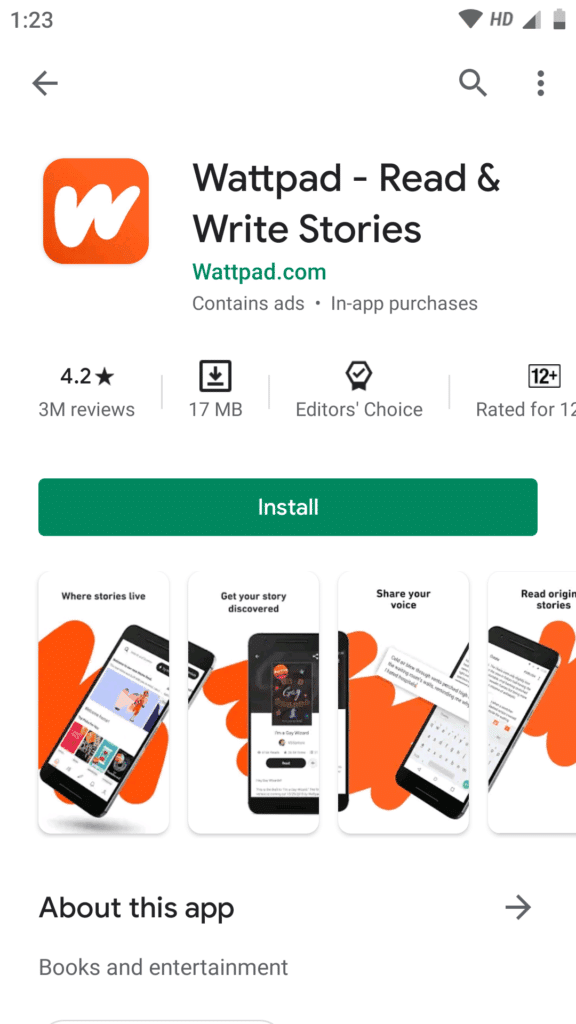 Wattpad is one of the best ebook reader app. Wattpad offers you more than 8 million publications.
This is a great ebook app for budding writers as you can explore fresh content. The app has great reading features where you can adjust brightness, font and many other things.
The Wattpad e-reader application also houses a discussion forum, where you talk to like-minded people about your reading experiences.
The Wattpad android ebook reader is updated every day with new content, and you never run out of interesting stories.
Top Features of Wattpad: 
The books can be downloaded.
It has a great inhouse discussion forum
Impressive reader settings
Price: free of cost with in-app purchases.
9. Bluefire Reader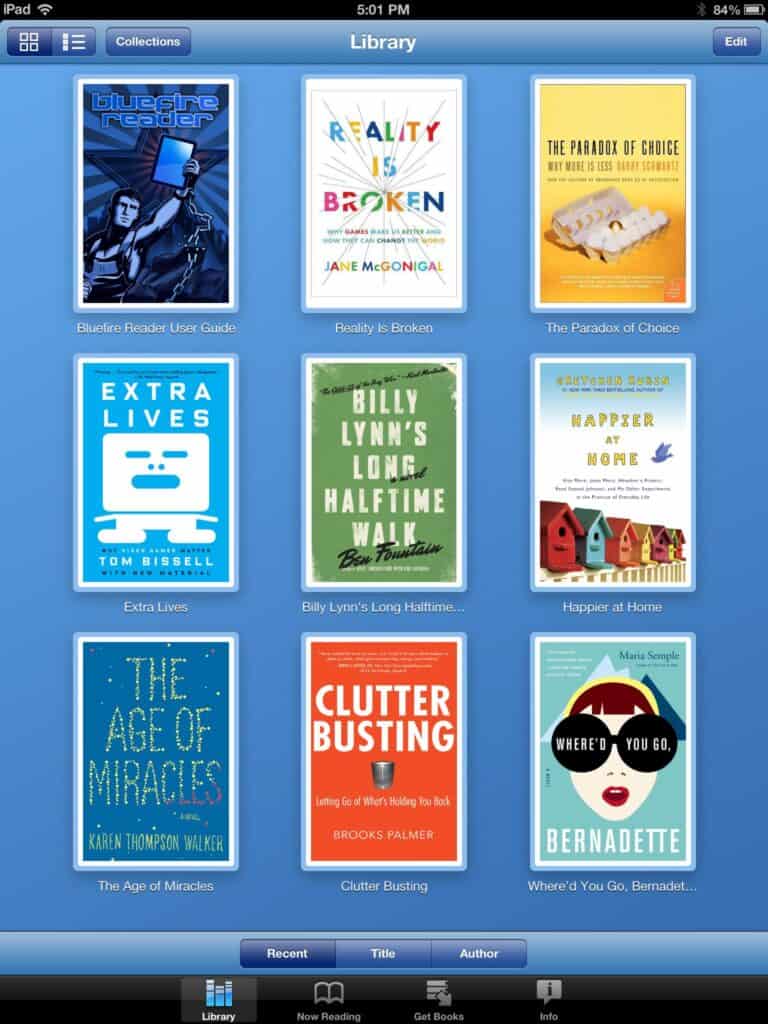 The Bluefire ebook reader app is available on Android, iOS, and Windows devices. It is mostly recommended for iOS devices.
This ebook app offers amazing features like highlighting the text, bookmark so you can read from where you left off, and annotations, to make any personal notes.
You can even share your favorite excerpts from the book through email or even to social media.
One of the most unique features is that the ebook app automatically synchronizes your reading location.
Bluefire Reader is the popular choice for the best ebook reader for android.
Top Features of Bluefire Reader: 
The app comes with an inhouse dictionary so you can look up meaning easily.
It also becomes easy to sort your books into collections.
Price: Free 
10. Kobo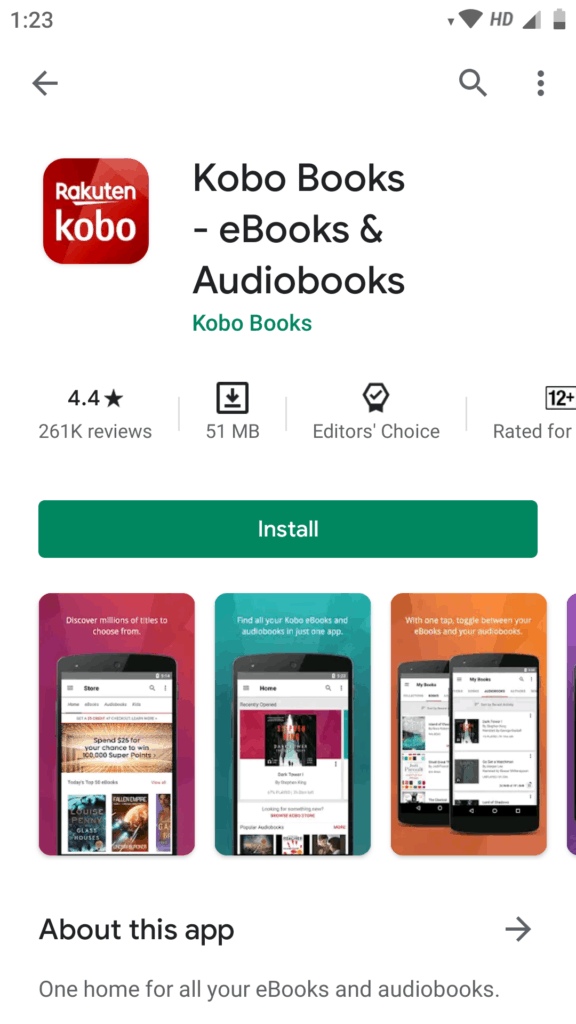 The kobo ebook reader has an amazing selection of 6 million books, magazines, titles, etc.
This ebook reader app is the by-product of Rakuten, the same company that made the Viki Rakuten app for Korean Drama.
The kobo e-reader application also offers an impressive range of Audiobooks.
The amazing Audio player for ebooks makes it easier for the user to navigate through the audiobook.
The kobo ebook library has books from various genres like action, comedy, thriller, fantasy, science fiction, and many more popular genres.
Top Features of Kobo: 
The kobo ebook app also offers free previews of every book.
The kobo ebook app also offers a Night Mode, which helps the user while reading at night.
Price:  The app is free to use.
Conclusion- Download the best ebook reader app today!
We hope you found this article on the most popular ebook reader apps to be helpful.
We ranked these apps based on reviews, feedbacks, forums, and our own knowledge.
We haven't ranked these ebook apps on the basis of the ratings they have received on Google Playstore or Apple store as those ratings tend to fluctuate much.
So, after using the apps ourselves, then only have we mentioned about them in our article.
Related posts