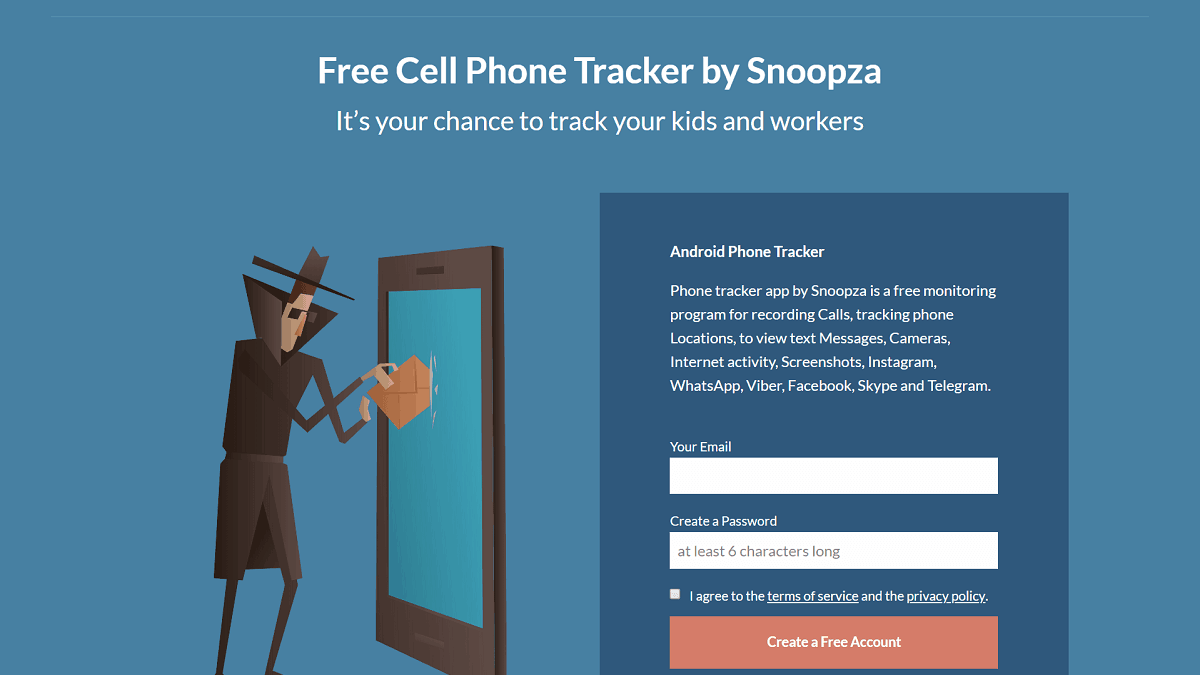 Monitoring the activity on a phone can be very useful. It is a great way to protect your kids from predators and ensure they don't access inappropriate content. Similarly, it can help keep tabs on employees and prevent time from being wasted.
Although there are numerous apps that can monitor or 'spy' on mobile devices, many of them may not live up to your expectations. One that actually might is Snoopza, and this review will let you find out more about it.
About Snoopza
The Snoopza app is designed to track and monitor Android devices of all types. It will let you monitor the phone in detail, and find out exactly what you need to know about how it is being used.
After you've signed up you will need to install the app on the devices that you want to track. Once that is done, all the data that is acquired from various devices can be viewed on the online platform.
Key Features
Within Snoopza you'll find numerous features that let you track and monitor Android devices in several different ways. Some of the key features that are particularly noteworthy will let you:
Track and monitor phone activity
With Snoopza you'll be able to view the call history of your phone as well as any SMS or MMS messages that are on it. On top of that, you'll also be able to record both incoming and outgoing phone calls and save them if necessary.
View conversations on Instant Messaging apps
Many people nowadays rely heavily on Instant Messaging apps such as WhatsApp, Viber, Snapchat, Facebook Messenger, and so on. By using Snoopza you'll be able to view the conversations that are carried out on those apps too.
Check the browser history
Want to know what websites are being visited on the phone? Snoopza will let you not only view the full browser history, but it will also let you find out exactly how much time was spent on each website.
Track the phone's location
If you want to find out where someone (or rather, their phone) is located, you can use Snoopza. It can not only provide you with the current location using GPS or WiFi signals but can also fall back to triangulate the position using cell phone towers if neither is available.
View the phone's calendar
Snoopza will give you full access to the phone's calendar so you can see anything noted on it. That includes not only normal notes but any other reminders or to-do lists that are present.
Take a photo using the camera
One of the more interesting features in Snoopza is that it will let you set it up to automatically snap a photo when the display is unlocked. In that way, you can see who is using the phone.
By capturing screenshots you'll be able to actually see exactly what is happening on the phone's display at any given time. It can also help you to compile data or keep track of any notable instances.
It is worth noting that these features are all available in the full version of Snoopza, but may not be available in the version that is a free keylogger for Android. The free basic version's features are more limited and are restricted to tracking calls, and viewing the browser history, SMS messages, and geolocation.
Advantages of Snoopza
The scope of Snoopza's features is definitely one of its main advantages – but it is far from the only one. Its other main advantages are the fact that:
Runs in stealth so that users aren't aware that the app is installed and active.
Provides free basic version that will let you try out some of the features at no risk.
It has a very intuitive interface and is easy to install, configure, and utilize.
Also read: How to block text messages on Samsung
Disadvantages of Snoopza
In general, Snoopza is quite impressive, but there are some areas that are a little bit lacking. The main disadvantages of Snoopza are:
No iOS version which means that it can't be used on Apple mobile devices such as iPhones or iPads.
It cannot be installed remotely and will require the device to be physically present when you want to install it.
Final Words
Now that you know what Snoopza can do – what do you think? If you still are on the fence or aren't entirely sure about it you may want to give the basic version a try. Seeing as it is free you really have nothing to lose.
Make no mistake Snoopza is not 'perfect', but it does definitely tick most of the boxes when it comes to a tracking and monitoring app for Android devices. The final decision is in your hands, however, and it is up to you to decide if it has the features that you need.
Related posts