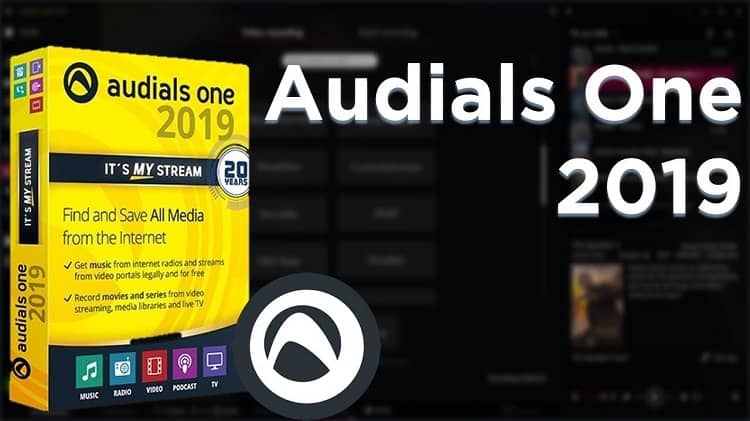 Audials One 2019 is the modern variant of home-made VCR tapes also known as the major legal recorder for high quality recordings of video streams and audio streams such as pictures, video clips, series, music, audiobooks etc.. The new generation Audials One 2019 of this world-renowned and highly-acclaimed portfolio of Windows applications has been recently published. New features such as the Music Bot, Music Styles and improvements for example recording Spotify, Amazon, Netflix and many more in better quality enable users to collect music, movies and series simpler, faster and still in the maximum quality. The best part is that is is all legal and you are not promoting or participate in piracy.
In the beginning, the interface can appear a little confusing, particularly the home screen. This is, in actuality, quite simplified compared to the previous versions. There is so much on offer here that it can cause confusion. There are fewer choices on the left-hand column and that is really a good thing. All of those various music options have instead been merged into a single tab, making things easier to locate and access.
Audials software was optimized for Windows 10, 7, 8 and can be obtained as an app for tablets and smartphones running Android, iOS and Windows.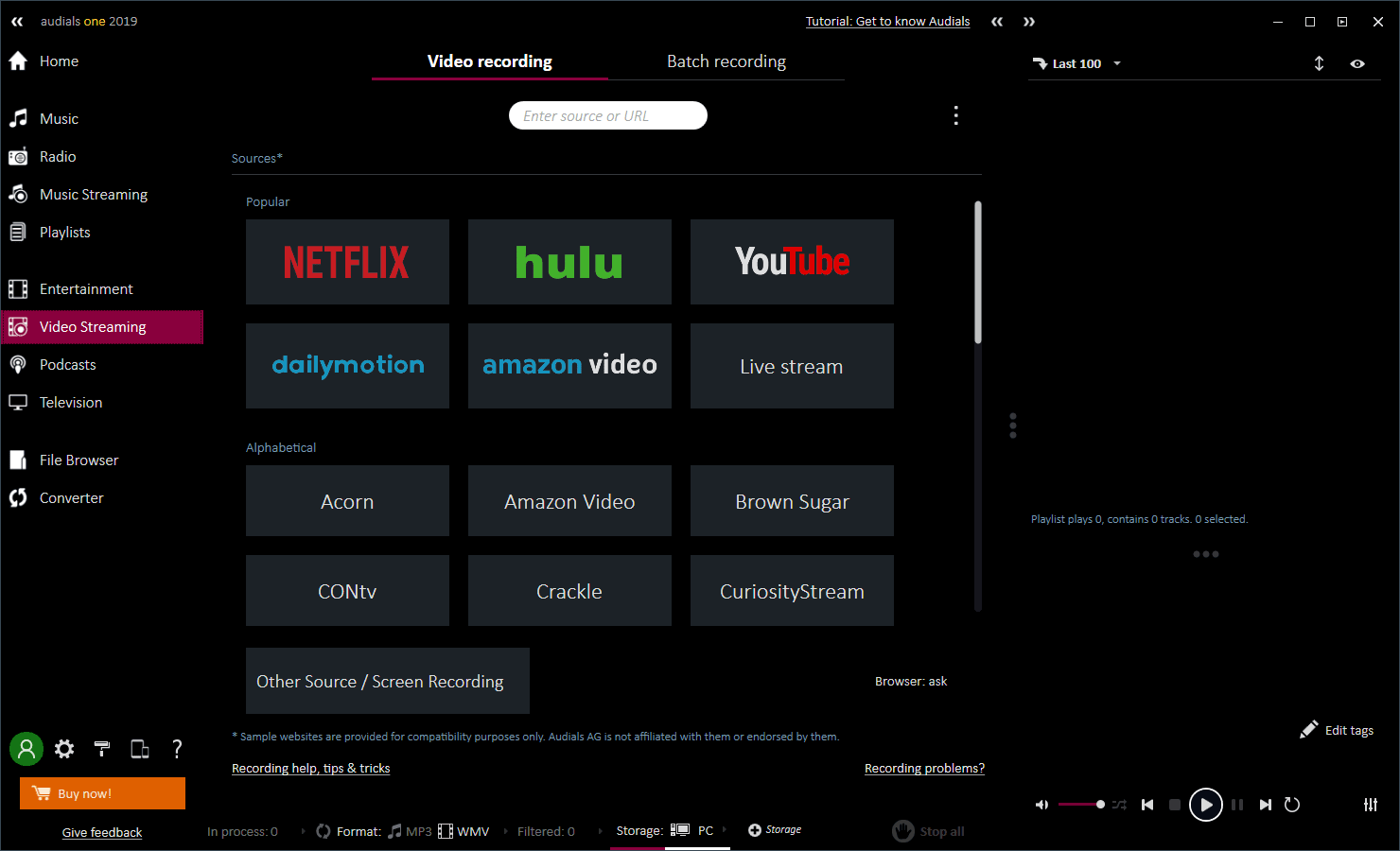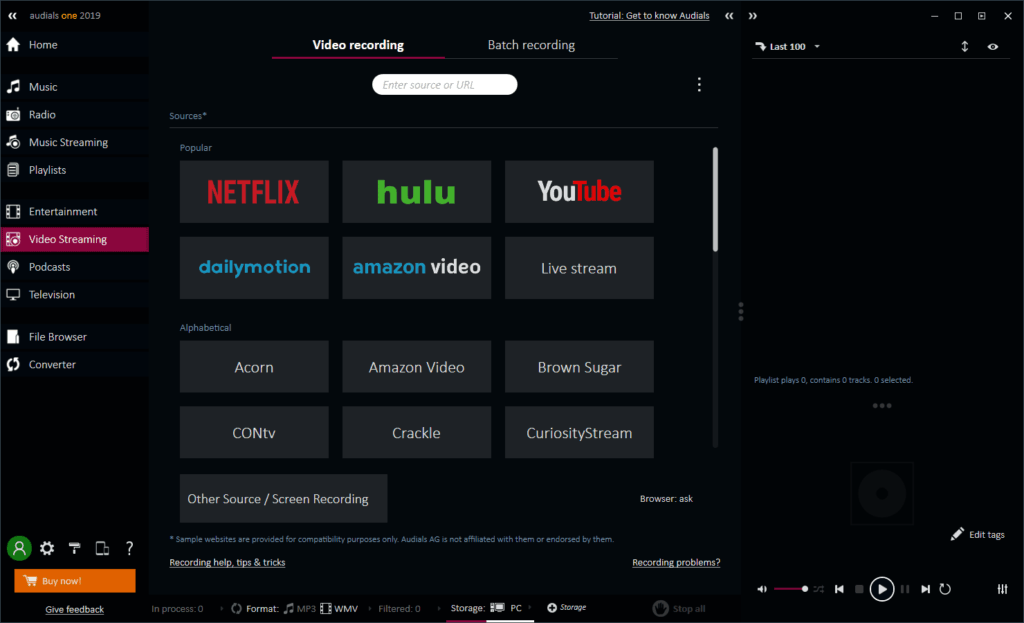 Also read: Couchtuner Alternatives – Watch Series Online Free
Audials One 2019 Features
The new generation also includes, Music Styles, a special way to get music recommendations for each mood or taste. When selecting a couple of sample artists or radio stations, the program will give you an incredible number of artists, tracks, playlists or compilations depending on your taste.
As an additional service, the Audials team delivers every week the current music charts for pop, rock, dance, 80s, singles or music videos as well as movie soundtracks, independent strikes, playlists based on the mood etc., to always supply you with the best music tracks.
You can watch all highlights from TV channels around the globe full-screen and record the best programs with a single click.
Record at maximum speed without quality loss
Batch-process multiple YouTube links in one go
Record directly from your graphics card
All the latest device profiles for current-gen smartphones, notebooks, gaming consoles, and many others
Always perfect music quality from any streaming source
7 new video services and the top 50 music TV stations
Record TV at the click of a button
Easier to use and with significant performance gains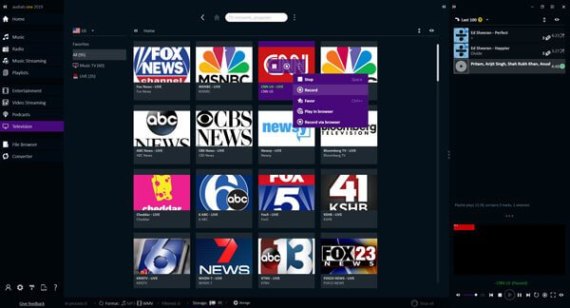 Also read: Download Spotify Premium Latest APK [Mod] [Cracked] [No Root]

Audials One – Complete Media Entertainment
Audials One 2019 also lets you play music and video files that you already have stored on your computer, not specifically downloaded using Audials. So Audials is also kind of the one a media center for your PC which brings all of your content into one place. An in-built screen recorder also lets you record literally anything that is playing on your screen. Of course, you can also use it to record anything like a tutorial, a gameplay video, etc. The in-built file converter lets you convert media files and supports almost every video and audio format you'll ever need to convert to or from.
The Use Audials One 2019 According to Law (Legal or Illegal)
To do so, Audials AG always emphasizes the absolute legality of all sorts of activities. Lawyers in general usually confirm and often believe that recording bans in the terms and conditions of some services. At least for private copying, are merely invalid and therefore not legally binding. To be on the safe side, of course, as a user you should not record or use any illegal sources.
A big advantage is undoubtedly its comfort and effectiveness of the search for content. It has comprehensive information about performers or films as well. This way, according to Audials AG, a large variety of hits, current charts, albums, and discographies can be discovered and put together.
Audials One 2019 Radio
Audials One 2019 monitors over 100,000 Internet radios and offers more than 20 million MP3s from more than 120 genres of music. According to the company, the discovered content can then just as quickly be listened or even saved. Then you can play the recording in its music collection on the PC, in the cloud, using a smartphone, and other devices.
Before we go into more detail on how Audials One 2019 looks and works, here are some of the new features of the current version of Windows, followed by the opportunity to win.
Music style & music bot for custom music search on YouTube, Soundcloud and others, now with Spotify
New recording sources and mode with 4k support
Improved and reorganized view and operation by the function
New TV Player – 100 New Live TV Streams – Super Media Library
Optimized streaming recorder for fast recording in the highest quality
Stronger wish list with many detail improvements and new music sources
Automatically the best soundtrack for YouTube direct download
Merging to new view for music
Improved YouTube link download for directly downloading only audio tracks from music videos
Up-to-date device profiles to all well-known manufacturers
Audials One 2019 brings new and improved features for recording music and saving movies, series, livestreams and other media. It is definitely worth checking out the features. A free demo version is offered by the company that can be downloaded on Audials.com
Entry-level products exist as well: Audials Moviebox is the expert for video-streaming, Audials Music Rocket supplies you with all music you desire, Audials Tunebite Premium is the audio-streaming recorder and Audials Radiotracker includes more than 100,000 online radios to record music in MP3.
Audials offers an Android App and an iPhone App. Interested users can download a trial version of Audial from the official website.
Related posts