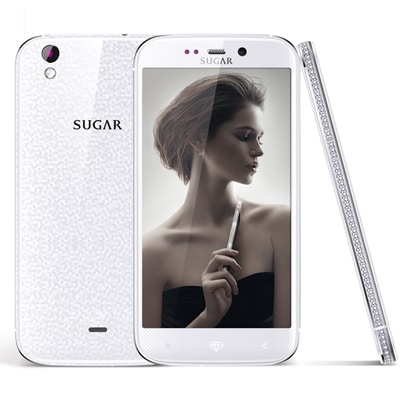 Metal and glass body, slim profile and ergonomic lines all said to help with the design and attractiveness of smartphone and most would agree.
High-class processing powers and functions of the software in line with our wishes carried out smoothly and almost unlimited possibilities.
Striking a perfect blend between style and functionality is hard and by no means easy. One person's opinion on what is most important will be different to others.
Sugar Phone swings more style than functionality, but all is said is not bad, the phone is given, as it is unique.
Hardware Specifications
5" full HD touchscreen display
1.5GHz quad-core processor
13 megapixel Sony camera
8 megapixel front facing camera
16GB internal memory
2350mAh battery
Design
Without wishing to stereotype, Sugar Telephone aims female market acceptance he gets from women is very good.
Few I found that he criticized.
Hand set around the edge of the phone is 129 57 facets Swarovski Zirconia stones in total.
He is sitting between silver ribbon on the white model we have here, light, stones or shine.
Design style stone performs on software and even a touchscreen button on the front. This can be a bit cheesy, but I think it works well and is consistent with the theme. It even lights up when charging.
It is wise to the bezel around the screen with a front-facing camera and a headset over his.
Flip to the back and Shimmery Gorilla Glass 2 will provide a unique look and feel.
The power button on the right side is finished with stones as volume up and down keys on the left. Micro-SIM card tray engraved with the confirmation of a genuine Swarovski device.
MicroUSB port is conveniently located along the bottom of the microphone and the second microphone and a 3.5mm headphone jack, can be found on the top.
With smooth edges and solid feel, it feels good enough to hand.
Display
Manufactured by Sharp, the Sugar phones has a 1080 x 1920 IPS LCD display which offers a superb pixel per inch count of 441.
I did not expect it to be as good as it is.
At 5" in size the screen is probably at that sweet spot where it is large enough you can easily do all you need on the device but small enough that the phone is fits in a bag, pocket and hand relatively comfortably.
Unfortunately the bezel around the display is a little larger than I would have like to have seen.
Like many screens it suffers with fingerprints, but watching a movie, playing back images and general interaction with it is pleasing.
A light sensor does allow for it to automatically adjust as at full brightness in a dark environment, it can be a little strong.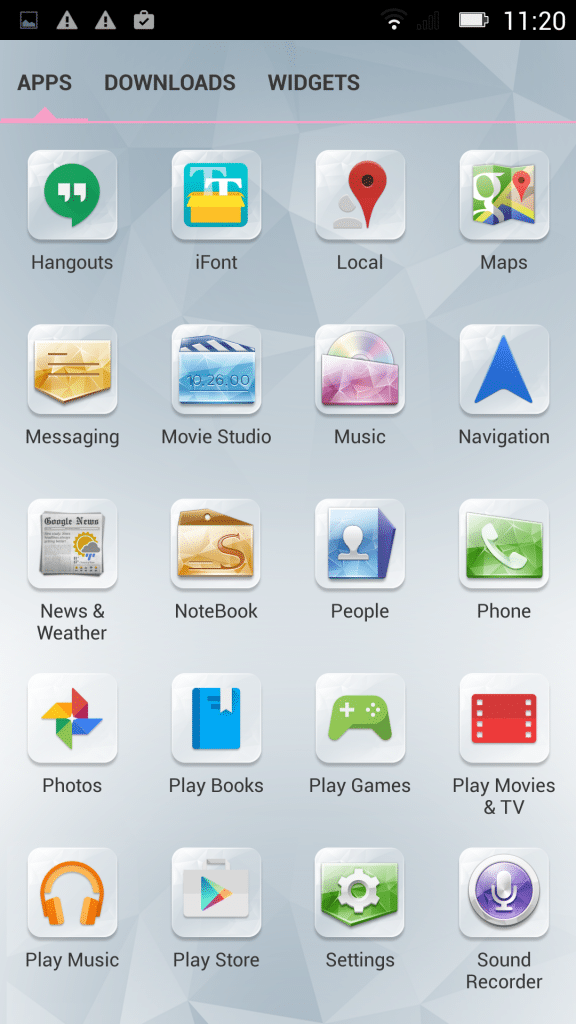 Software
Powered by Android 4.2 the software is considerably out of date if you keep up with Android developments.  However, it contains what most users need as core functionality and honestly few would really know or be too worried outside techie circles.
The Sugar Phone has had an extensive re-work in the software department and is quite some way from stock Android.
Whilst the themes can be changed there is a continuum of sparkle and jewel like throughout.  All the icons and switches have been adapted.
Of the 16GB internal memory 10.5GB is available out of the box to use.
Google services such as Drive, Gmail, maps are all present but there is too a number of additions which are best shown in the screenshots, but these include a boot optimizer,a dressing glass, FM radio, a note pad and to do list.  Useful and not over bearing is how I would describe the list of available apps and features out of the box.
Full access to the Play store means all your favourite apps can be installed within a matter of minutes.
Adding a corporate email and social media accounts is simple.
Other nice touches in my mind include the ability to change the colour style of the screen, the key brightness and what they call the breath light that pulses by default when charging.
In addition a number of smart gestures are available and can be activated or disabled depending upon your preferences.  These include a gesture unlock, answer phone, camera snap and more.
What these additional features show is how extra thought has gone into this product and it is not just something that has been thrown together in an effort to try and flog a smartphone for the female market.
Connectivity
Bluetooth, WiFi, GPS and phone connection are all present as you would expect.
The phone is 3G only and not 4G which is a shame.
It does offer USB host functionality, albeit you need to install a different file manager to make use of this.
MicroUSB connectivity makes it simple to charge and being mounted on the bottom it is conveniently located.
There is no option to expand the memory, it is the fixed 16GB only.
Audio
I was really quite impressed with the audio on the Sugar Phone.  The rear mounted speaker didn't beaude well when so many devices are now opting for front facing options.
There was a little directional tone to the speaker, being mounted on the rear, but the quality and balance of the audio was really good.
Even at full volume with different audio types at no point did it sound strained and there was good depth and tone to the sound compared to many smartphone speakers.
You could quite easily listen to a few songs or podcasts from this speaker without much issue, assuming you lay the device face down or hold it in hand to avoid muffling the speaker.
Camera
2 cameras are inset into the Sugar Phone, both Sony built, which result in reasonable images.
On the rear is a 13 megapixel camera and on the front is an 8 megapixel.
A high resolution for a front camera, this is designed to assist in the 'dressing glass' mode which uses the front facing camera to act as a mirror.
The camera is well features with different settings and shooting modes including smile shot and HDR.
For a little added fun 'cinemagraph' creates a little moving picture (gif) whilst there is also a photosphere and object eraser tool to help perfect the image.
Flash is present to help with low light shots.
You can record HD video and pause recording whilst doing so, but you cannot capture a still whilst doing so.
Post capture of stills you can also edit images using a lot of the built in editing functionality.
The final results on the whole were ok, perhaps a little darker at times and a little washed out at others, depending on the subject and colours being captured.
When recording video, the microphone picked up quite a bit of wind noise and struggled more with changing colours and light conditions.
At 2,350mah the battery is not the biggest in this phone but it will last the average user a working day, just.  Depending on how much you use the phone will have a bearing.  power users will deplete power within hours whereas lighter users will get a day or very light users may get 2.
There is little in way of battery conservation technology built in but you can 'Economise' the battery when the battery is at 11% or less.  This setting is under 'display' odly.
It is fair to say a daily charge will be required.
Conclusion
This is a niche phone, but one that is different and one that serves a sector of the market that still today is not best served.
Stereotypical it may be, but the female user generally tends to like things with a bit more sparkle. A bit of silver or gold metal is not always enough.
If you read this with a techie hat on, take that off and think of the teenage girl, twenty something party lover who is more interested about sending a text, capturing a few images and having a functional phone than whether the OS is buttery smooth and can multitask like a champ.
Ask your wife or girlfriend what version of software is on their phone and they will likely look at you blankly, which confirms the 'very latest' is not always required and when something like design has been seriously considered like it has on the Sugar Phone
If you love the sparkle and appeal or know someone who does, the Sugar Phone is a solid product with few areas in which I can criticise for something that is so unique.
Related posts