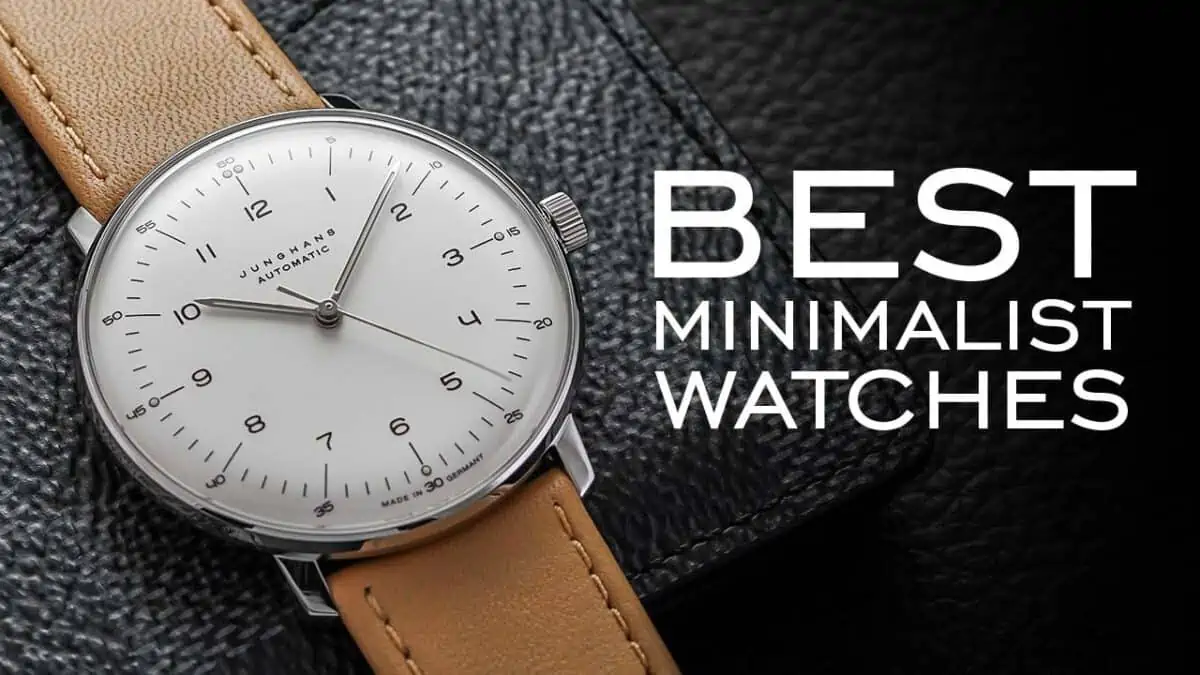 Sometimes, less is more. In a world with so much chaos and distractions, having less and enjoying simple things can make some people satisfied and content. That is true for people with minimalist tastes. The minimalist concept involves freeing someone's life from clutter and unnecessary things they do not need.
But being a minimalist does not mean you cannot own a luxury watch. Here are some of the best luxury watches from the leading watchmaking companies that offer our minimalist friends the best timepieces options for their everyday lives, such as the Rolex Perpetual, Nomos Glashutte watches, the TAG Heuer Link watch, and many other options.
1. The TAG Heuer Link
One of the finest watches on this list, the TAG Heuer Link watch collections resemble purity, precision, and simple beauty. Known as the house collection whose design solely started with its bracelet, this S-shaped piece gives the maximum comfort, coming with a distinctive and elegant design that feels almost weightless on the wrist.
This automatic chronograph watch will give every minimalistic person the luxury of having a modest yet extravagant watch on their wrist that they will surely love.
2. The Rolex Oyster Perpetual
The new members of Perpetual Collections or Rolex are the direct successor that benefits from the prestigious reputation of the original Oyster built in the 1920s–the first waterproof wristwatch in the world. This collection offers its wearer useful and traditional day-to-day functions such as hours, minutes, and seconds in an immortal method and precision.


This watch delivers a minimalistic and classic design while maintaining its accuracy and function in its finest form. These classical-designed modern timepieces are always the go-to options for people wanting to make their life simpler and content with style.
3. The Rolex Cellini Time
Rolex is known as one of the most famous, if not the most, luxury wristwatches in the world. But little did many know that Rolex released some watches that did not receive popular recognition from watch enthusiasts. And the Rolex Cellini Time is one of the perfect examples of that. But despite its lack in popularity, this watch offers to watch enthusiasts, especially the minimalist ones, the straightforward design that resembles its purity and clear-cut design as a Rolex sports watch.
4. The Patek Philipe Calatrava
This is Patek Philippe's way of making unfussy yet classy and refined timepieces worth a thousand priceless experiences. Patek Philipe Calatrava is an ageless round wrist watch that charms every person with its understated excellence that comes from its design, function, and toughness in a different environment. As a dress watch, it has an attractive look that everyone can surely recognize and admire on every occasion the wearer uses it. And yes, it is a dress watch, but it is still a perfect choice for minimalists as it offers a unique and gorgeous design in its effortless form and performance.
5. The Grand Seiko SBGW259
The Grand Seiko SBGW259 offers a new contemporary aura in our time. This high accuracy watch made out of the persistent determination of the finest watchmaking geniuses in Japan carries the great tradition of the craft of the house. This watch case is made of titanium to ensure its top-of-the-line quality and sturdiness to make every Grand Seiko watch a watch for a lifetime. Polished with a meticulous handmade and minimalist design, this is the perfect piece for every person who loves to own a timepiece for everyday use.
6. The Nomos Orion
This timepiece embodies the very essence of minimalism for a dress watch or even for an everyday watch as it embodies the ageless beauty of a classically designed luxury watch. Its fine curves in the casing and its sharp drawn minute and hour marker makes it a more stylish. It is also a suitable watch for people who use timepieces as a time tracker and fashion statements as well. Clearly, with its modest look and unparalleled quality as a luxury watch, everyone would appreciate this watch from Nomos.
7. The Longines Heritage Classic Sector
Longines is known as a brand that has mastered the art of making a heritage model of timepieces. The well-balanced design that perfectly mixes the modern function and aura to an all-time favorite conventional pattern makes this watch a much-loved luxury watch with a minimalistic approach. With the combination of calm and cooler tones, this Longines Heritage Classic Sector can be an ideal timepiece for people who want a down-to-earth watch. This timepiece can provide elegance and an incomparable appearance.
8. The Tissot Heritage Petite Seconde
The Tissot Heritage Petite Seconde is one of the newest additions to the vintage collection of this incredible brand. This collection affirms the rich and innovative journey of this company to strive for the continuous improvement of its watchmaking. Having a sapphire crystal that gives a contemporary style and high resistance against impact, this vintage-looking watch has its own identity of modern and minimalistic spirit.
9. The Omega De Ville
Omega De Ville offers round timepieces with Roman numerals to indicate time and a clear porcelain white dial to give more depth to the watch. This timepiece is one of the most sought-after luxury watches that signify innocence and beauty. Its nominal design is intended to make every watch wearer feel that having less can make you content with what you have.
Final Thoughts
Those are some of the best luxury watches in the industry for minimalist lovers. And yes, being minimalist means having things that you only need most. But having some of the best timepieces above can make every person feel happier and content with what they have and what they achieve in life. So if you want to be elegant without getting an extravagant-looking watch, you may find the list above helpful in the future.
If you want to check out more minimalist watches from different luxury watch brands, visit TheWatchCompany.com to find out more. They also offer other timepiece designs that may suit your tastes and style.
Related posts