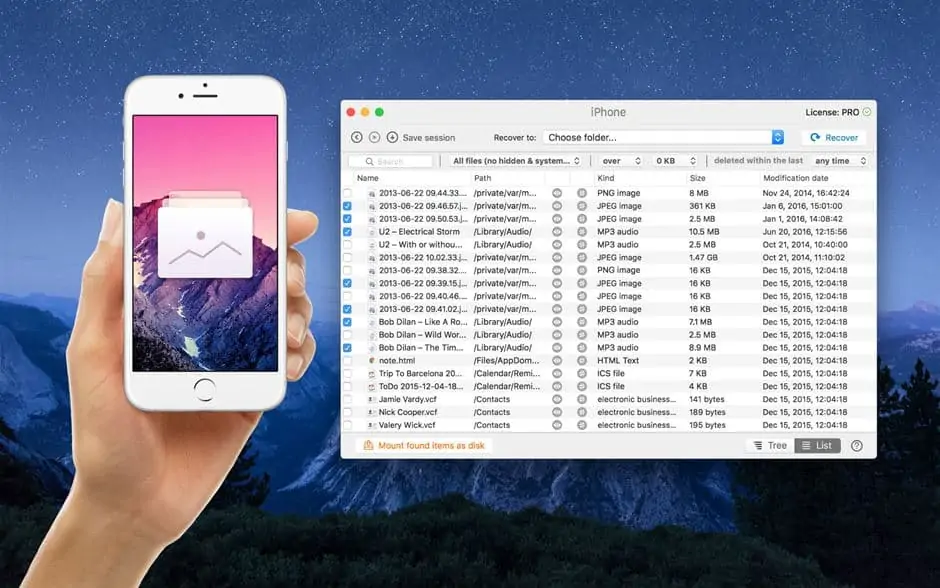 The loss of important photos can be a real problem for iPhone owners. Still, unlike Android smartphones, iOS devices have more options to prevent permanent data loss. We have some tips to keep your iCloud data safe and how to recover deleted photos from iPhone using standard or third-party tools.
3 Methods to Recover Deleted Photos
Use Disk Drill
Sometimes, one clumsy movement is enough to instantly delete a photo. But you can use a great iPhone data recovery software that is called Disk Drill. With the Disk Drill from CleverFiles, you can recover lost files in just a couple of clicks.
What's more, Disk Drill iPhone data recovery software is also a collection of features designed to prevent file loss. Recovery Vault keeps the information about all deleted files. It will allow you to restore them as quickly as possible (unless, of course, the empty space was recorded with other data). Disk Drill isn't trying to replace popular backup apps, but it complements them perfectly, giving you another confidence in the data security of your iPhone.
The software's beautiful interface fits perfectly with the macOS aesthetic and is really simple. Even a beginner can use it without problems. And this is the main thing. So, now any user can quickly return the necessary data themselves without contacting professionals (which is especially important if there is confidential information on the device).
Look at the Deleted Photos
This technique is the simplest and fastest since it doesn't require any connection to a computer. So, recovery can be carried out anywhere and at any time.
If you deleted photos a few minutes ago, then it is easy to recover them just by opening the Deleted Photos folder. First, you need to open the Photos on your iPhone. Then click Albums and Recently Deleted, where you can easily find your photos deleted. Browse and select the deleted photos you want to recover. Click Select in the upper right corner. Click the Recover button to recover permanently deleted photos on iPhone. However, you can recover deleted photos within 30 days.
 Use an iPhone backup
Thousands of sources speak of the need for regular backups. But nobody wants to follow the recommendations. Users of iPhones always have the opportunity to restore deleted files from a backup.
For most iPhones, you can configure the ability to automatically sync with the cloud. And for many newer models, this feature works by default. In such a situation, photos and other data and files are automatically uploaded to the cloud. And when the user views them, they are actually uploaded to the smartphone again.
If this option is configured, then you can find deleted photos on iPhone using iCloud. An iCloud backup will help you get your photos back. So, launch the application, select Recover from iCloud Backup, find a copy with a suitable date. Wait for its download. Now deleted photos are on your iPhone.
To recover photos via iTunes, you need to use a computer. Connect your iPhone to your computer, launch iTunes, and choose the photo you need to recover. In a few minutes, the lost data will be recovered. The main advantage of the technique is that copies don't have a maximum storage period, that is, you can restore any old deleted photo, no matter how long ago it was deleted. The main thing is that you synchronize it on time, when a photo is still present in the device's memory (and didn't forcefully delete this backup via iTunes).
Now you know how to restore deleted photos on your iPhone.
Related posts