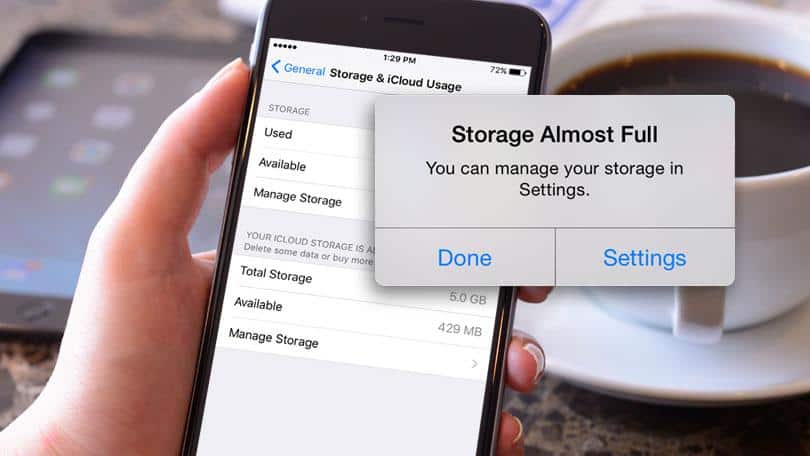 You're trying to free up space on iPhone, right? Wish there's external SD card service on iPhones. Loads of new programs are releasing every day to Program store, and at the same time, plenty of old programs are removed from the same App store for various reasons.
Considering The new program releases, we have a habit of installing those recently released apps, try them for a couple of days and ignore them completely. Doing so frequently on your iPhone will show you a gorgeous popup Storage almost full. Now starts the actual struggle to free up space on iPhone by uninstalling unwanted apps.
Soon you will realise just uninstalling the right programs will not easily free up space on iPhone and you need to go beyond it.
If You are trying hard to free up space on iPhone to eliminate storage Almost full popup all over your iPhone, then you landed at the right place. You can efficiently manage iPhone storage by following various simple tweaks.
Step by step guide to free up space on iPhone and to get rid of storage almost full error.
Download and install dr.fone – Erase on your Windows or Mac.
Open the tool and click Erase.
Connect your iPhone using the USB cable.
On your iPhone, tap on Trust and enter the Passcode.
Select Erase Private Data.
Wait till entire iPhone data is loaded. It would take minutes depending on iPhone storage capacity.
Carefully select all unwanted data from messages, contacts, call history, images, videos etc.
Click on Erase from the device.
Confirm the selection by tying "delete" and click Erase now.
Selected data will be permanently deleted and your device will reboot to finish the changes.
That's all you need can do to manage iPhone storage and you will now get rid of storage almost full popups on your iPhone. This is the straightforward and quickest way to free up space on iPhone without hassles.
15 powerful tips to free up space on iPhone
These tricks will free up more space on your iPhone and get rid of the storage almost full popup.
Uninstall unwanted apps.
Backup iPhone media to Google Photos.
Remove old photos and videos permanently.
Clear Google Chrome and Safari cache and history.
Periodically monitor and delete WhatsApp media.
Disable auto-download media option in WhatsApp.
Uninstall the Facebook app and install Facebook Lite.
Turn off iCloud backups.
Turn off Photo Stream feature.
Remove burst mode duplicate photos.
Record videos in 1080p.
Clear old iMessages.
Delete unwanted live photos.
Clear installed app cache periodically.
Backup old data to PC/Laptop and deleted them from iPhone.
Related posts