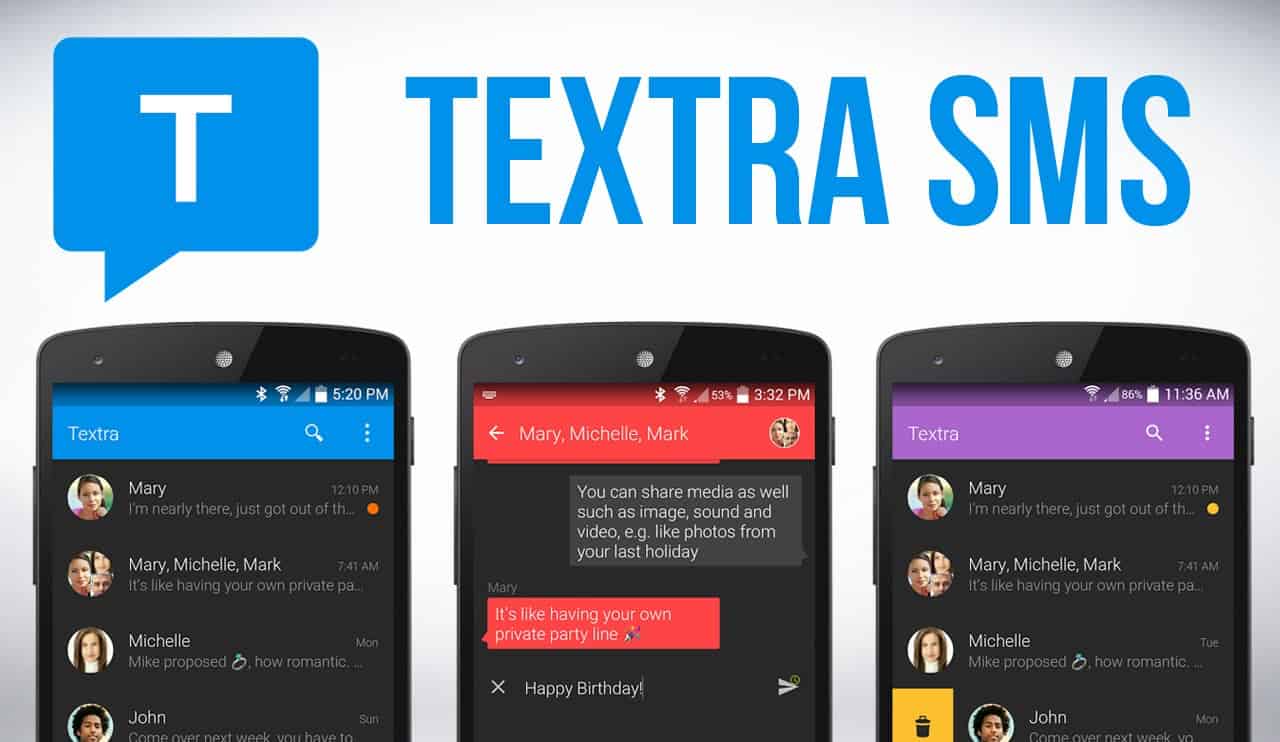 Textra is an SMS and MMS app that replaces the stock messaging app on your Android device, and while there are many apps out there that share the same basic function as Textra, I believe Textra is the best third party smsand mms app for Android, and today i will try to show you why!
Android default SMS sending app is free, Textra is also free, you might see an ad occasionally. To remove ads, you will have to buy the premium version. Other than the removal of ads feature, all the features are available in the free version as well.

Textra, like many other messaging applications is to make a list of the threads centered conversations. Where Textra different from others is the ability to talks to the left or right to highlight other actions. A swipe to the left will be a Trash icon shows the thread and a swipe to the right to delete discloses a phone icon, so you can make a call directly from the conversation list. The graphics look great and the integration is large.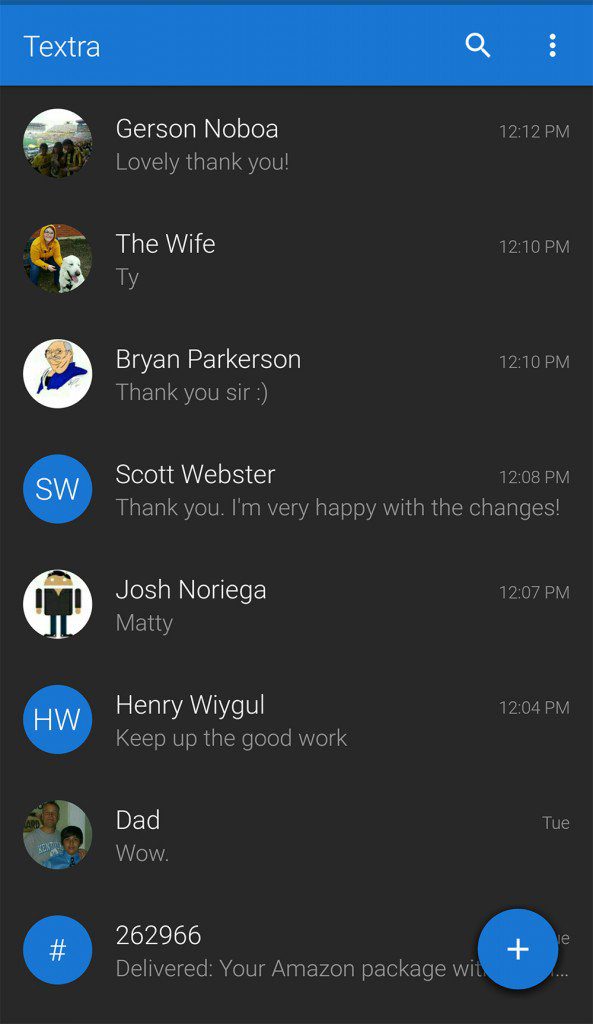 Inside your conversation is where Textra becomes very powerful.
Tapping the contact picture in the top right corner opens up their contact card with options to make a call or go into their contact entry in your phone book.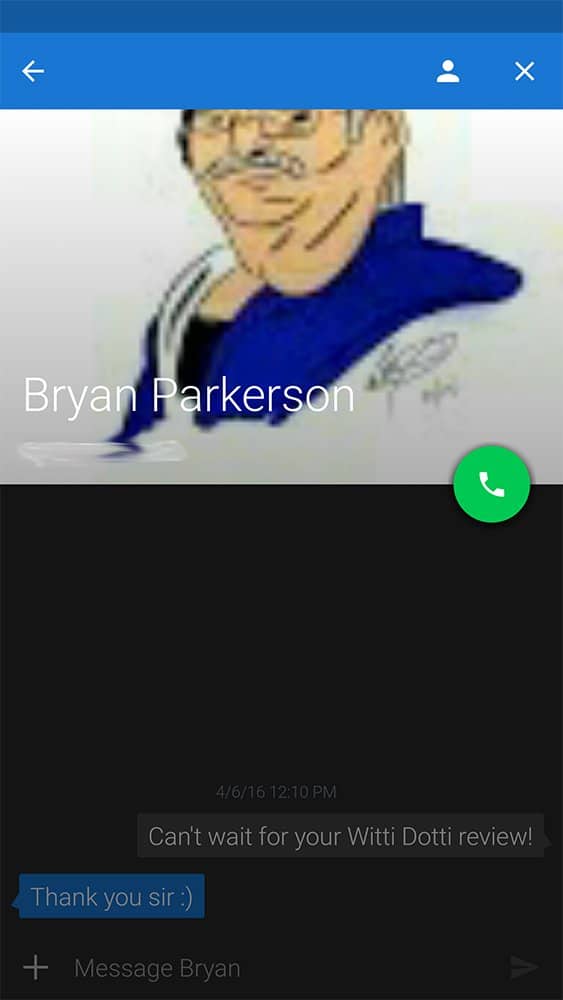 Tapping the plus sign above the keyboard opens up a ton of options. Here you can select an emoji, take a picture directly from the app, browse through your gallery to pick a picture to send to your friend, time delay a message, share a contact card, or find a gif to send to a friend. That's right, Textra supports the finding and sending of gifs through giphy.
The ability to schedule a text message to go out at a specific time is super convenient. Whether you want to be the first to wish a friend happy birthday at 12:01 on their special day, or you don't want to risk waking someone up with an early morning text, message scheduling removes the human error involved in remembering to get back in your SMS app to send out important info. I use this feature a few times a week and it's always reliable.
Quick Reply is baked into the functionality of Textra. When you have a new text notification, tapping the alert will open up a quick reply prompt that shows you a small snippet of your conversation and the full keyboard. I personally love this feature because it lets me stay within the app I'm in and reply to a message easily. We'll have to see if this feature evolves in Android N as Google is introducing quick replies from within the notification shade.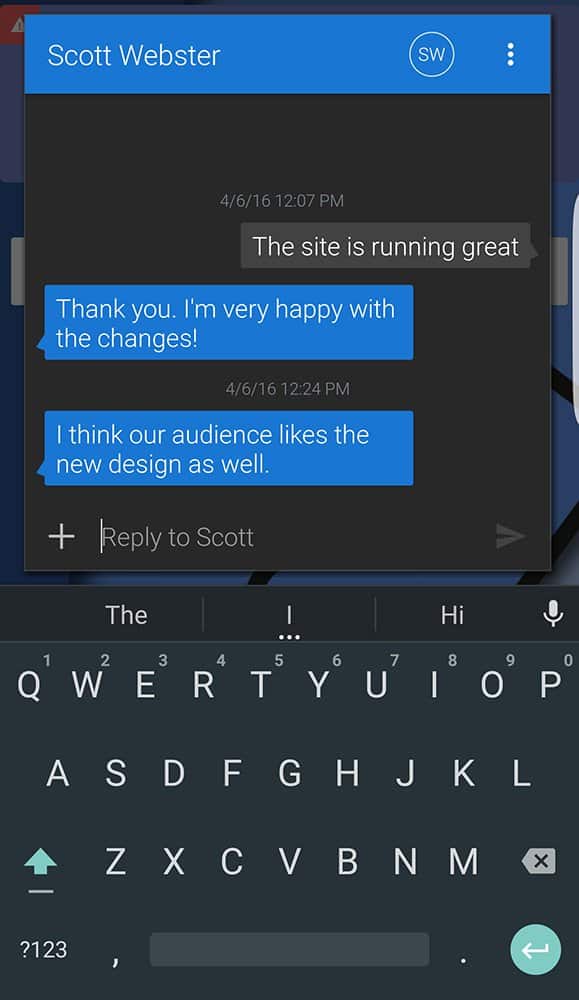 Customization
Textra gives you pretty powerful customization tools for a texting app. In the customization window you'll find options for background color (light, dark and black), a ton of theme colors that control the color of the top bar and accent color, bubble colors within the conversation window, and app icon color. I went with a pretty stock look since I really love how Textra looks out of the box. The dark background with blue and green accents really looks great on an AMOLED screen.
Within the app, Textra by default substitutes its own font for the system font, but you have the ability to to change it to the system default. I've left it on the Textra font since I like how it looks, but those of you who are into selecting your own system font will want to check out that option. The app also lets you make the most of your space by giving you a sliding bar to determine how big you want your text. Even my mother, who refuses to admit she's blind as a bat, could read text with as big as it gets in Textra.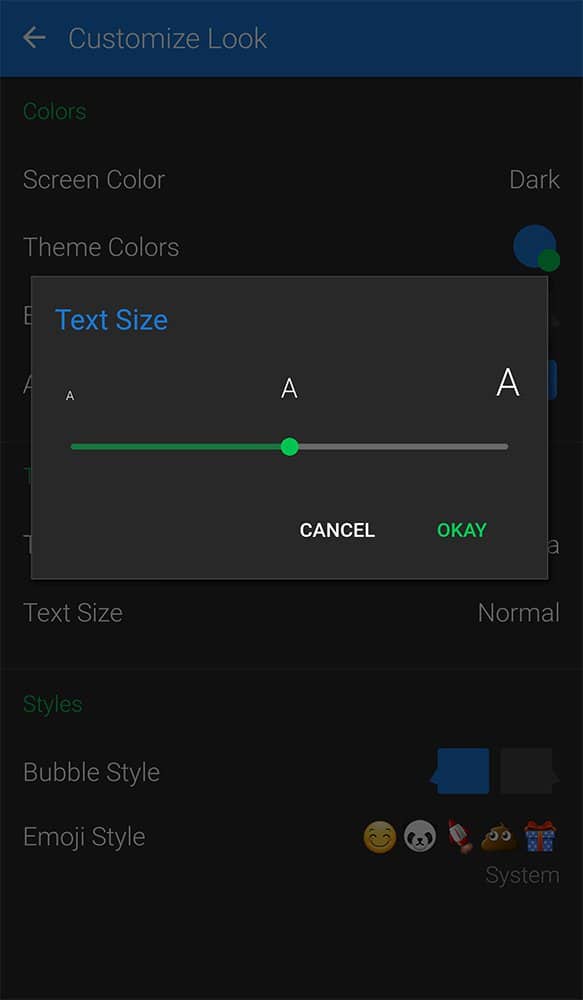 The customization doesn't stop there. Message bubble style and Emoji style are also customizable. You have six bubble options to choose from that only differ a little bit from each other. Nothing crazy here. Emojis are a different story. You are given options here that cover the system default, Android style emojis, Twitter, Emoji one, and iOS. The iOS style seems to be a popular pick since Apple makes emojis a point of focus. Textra also updates emojis often so you don't have to wait for a system update from Google to get the newest ones.
The customization goes beyond what you see within the app. Notification customization is a big aspect of Textra that lets you make the app your own. I previously mentioned the quick reply window, and it plays prominently in the notification customization.
You have three options when you tap a text message in the notification shade: Quick Reply with Keyboard, Quick Reply without Keyboard, and Full app. I mentioned that I prefer the Quick Reply because I can stay in the app I'm currently in. If you get long text messages or want more context in your conversation, you can choose the no keyboard option to make the thread appear a bit longer.
Other options include how long you want the notification to show up for when your phone is locked or unlocked, the icon you want to show up in your notification shade, LED blink color, the message sound, vibration options and whether you want the screen to light up when the message is received. As someone who used an app for years just to wake up the screen when I got a message, that's one of my favorite features of Textra.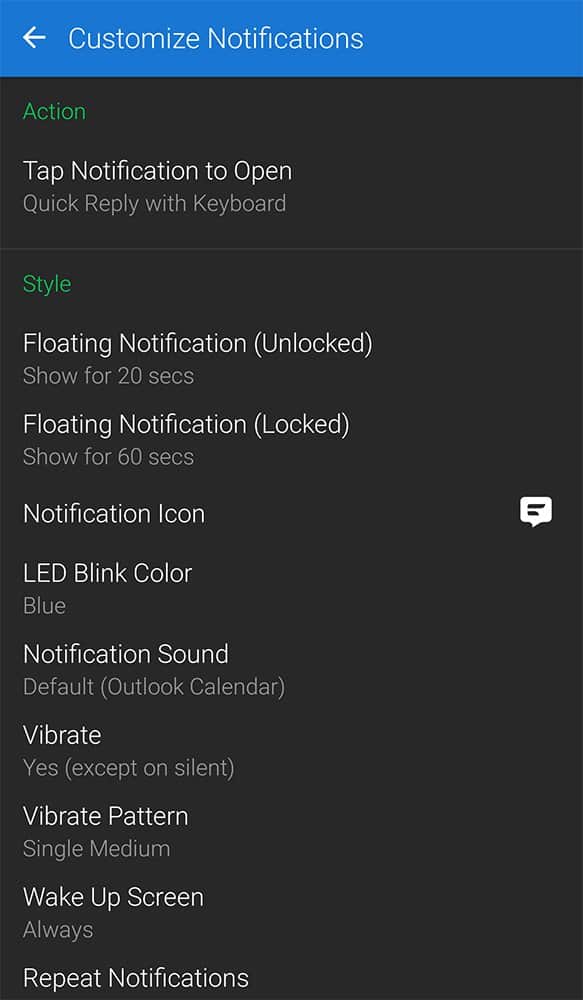 Textra app lets you choose your emoji style. In case you don't like the default Android style or any other OEM emoji style, you can select a different one in Textra.
You cannot change emoji style in Android Messages.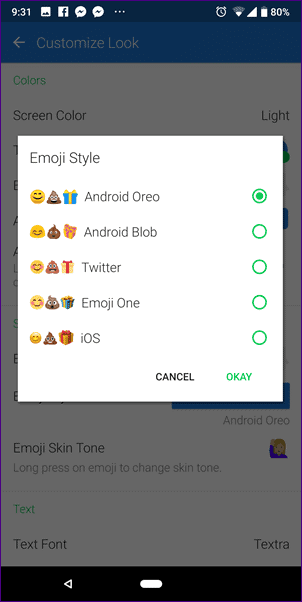 With the Textra app, you can delay sms or mms.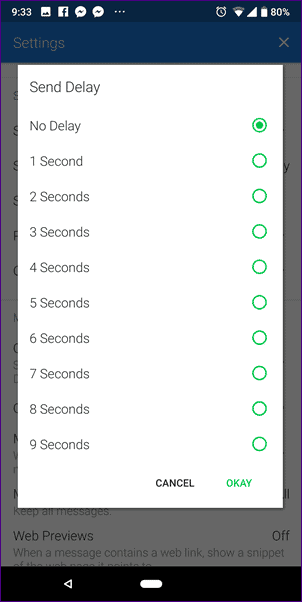 That's because, in addition to scheduling the SMS, you can also set a delay period for messages in the Textra app. You can choose between 1-9 seconds.  So there is time to delete unwanted to send sms.
You can download Textra here from Google play.
Related posts