Today we have a big jailbreak update for the CoolStar jailbreak they have posted an official post on the jailbreak subreddit on Reddit and that does give us the brand new for the jailbreak and this one is going to be called Taurine Jailbreak as the successor to Odyssey for iOS 13 now. It will be supported for iOS 14 – iOS 14.3.
So right now we don't have a release date for Taurine jailbreak iOS 14 unfortunately like is said this has just gone out for the beta testers right now.
Something good about CoolStar is they do a lot of testing before the jailbreak is fully released. So we know that when the final product is released it going to be very very stable.
They further posted the interface of the application. There is an interesting image of Linus in the background. The full version will come with a different theme but of course, you can go ahead and change different things on the interface as well.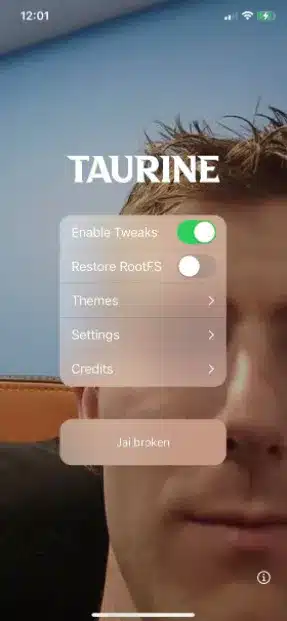 This as far as I'm aware is kind of support all the same devices as the unc0ver jailbreak does. So anything all devices from iOS 14 to 14.3 will be supported now the benefit I guess of Taurine Jailbreak is that it should be much more stable than the unc0ver jailbreak.
It has less battery drain than that kind of thing, of course, this will come packaged with the Sileo Manager rather than Cydia for downloading jailbreak tweaks. So you do have a much more modern version of a package manager included in this as well which is pretty interesting.
I'm very interested to try out this jailbreak as I've used CoolStar jailbreak in the past with a very high success so let me know down below what guys think of the Taurine jailbreak iOS 14 is it something going to try out or you are going to try out the unc0ver jailbreak or the checkra1n jailbreak or stick with that one.
Something I find really interesting about Taurine jailbreak is that CoolStar has confirmed that this will work with signing services out the box. This means that as soon as this is released you will be able to jailbreak your device with no computer now of course right now the issue with unc0ver is that it only works with the AltStore method so you do have to have a computer it is not compatible with signing services.
I am aware that Pwn20wnd is working with signing services to get this issue resolved however I guess it might be a little bit of a race to see who can get this out first as I think there is still a lot of people waiting for a no computer method to jailbreak.
So I will be interested to see in the comments down below whether you would use the no computer method if this is released before the unc0ver is updated or are you going to wait for unc0ver to be updated and then use that.  Overall I think this is really awesome news it is going to be obviously another jailbreak we can use so I think options are always good with this competition's always good.
Taurine Jailbreak PC iPA ( AltStore / Sideloadly )
Taurine Jailbreak iOS Compatibility
iOS 14.3 / iOS 14.2.1 / iOS 14.2 / iOS 14.1 / iOS 14.0.1 / iOS 14
Taurine Jailbreak Device Compatibility
iPhone 12 Pro / iPhone 12 Pro Max / iPhone 12 Mini / iPhone 12 / iPhone SE (2020)
iPhone 11, iPhone 11 Pro, iPhone 11 Pro Max
iPhone X, iPhone XS Max, iPhone XR
iPhone 8, iPhone 8 Plus
iPhone 7, iPhone 7 Plus
iPhone 6s, iPhone 6s Plus
iPhone SE
iPad Mini (5th generation)
iPad Air (2019, 3rd generation)
iPad mini 4
iPod touch 6G
2nd-gen 12.9-inch iPad Pro, 12.9-inch iPad Pro, 1st-gen 10.5-inch iPad Pro
9.7-inch iPad Pro
iPad Air 2, iPad Air
Jailbreak iOS 14 – iOS 14.3 Using Taurine and Install Cydia
Step 1: Download AltServer from here on your PC and open it. Proceed to connect your iPhone to your PC over USB. AltServer is available for both Mac and Windows. You will have to install a Mail plugin as a part of setting up AltStore.
Step 2: Click on the AltServer icon from your Mac's menu bar, select Install AltStore, and then proceed to select your iPhone or iPad.
Step 3: 
An AltStore icon should now show up on the home screen of your iPhone. After that, go to
Settings -> General -> Device Management
, tap on your Apple ID, and trust its Developer Certificate.
Step 4: With your iPhone connected to your PC, use Safari and navigate to the Taurine website. Scroll down and select the Install via AltStore option. Confirm your selection in the pop-up by tapping the Open button.
It is possible that the jailbreak process will throw an error and fail for you. If that happens, simply restart your phone, open the Taurine app and try to jailbreak it again.
Related posts