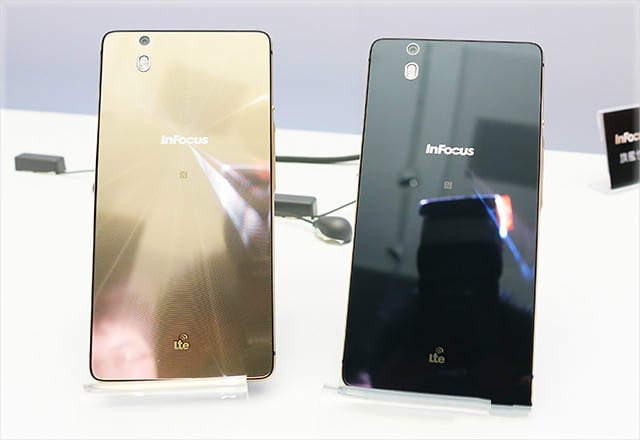 InFocus M810. This device uses the Qualcomm S810 processor (2.5GHz), sports a 5.5-inch FHD IPS display screen, has 16GB ROM, 2GB RAM, and 5mp/13mp camera. It is only 6.9mm thick. Furthermore, in addition to using Taiwan's LTE network, it also supports CDMA and WCDMA, and so, works with the five main telecommunication operators in Taiwan.
Besides its high specs, the InFocus M810 also boasts a high cost performance ratio. A single phone only costs 9,988 NTD. This phone is set to hit the market on July 31 and will be available in black and gold (the gold version comes out in August).
Sports a sleek metal design with a frame made of aluminium alloy
The InFocus M810 sports an excellent metal design sporting a case made of Gorilla Glass 3 that is covered with anti-fingerprint coating. The rear case is available in black and gold.
The M810 is just 6.99mm thick but because it sports a 5.5-inch screen, it uses a battery that has 2600mAh (undetachable). The phone also uses a frame made of aluminium alloy and the buttons are designed in the way that is similar to Sony's.
The black version does not let out a very bright flash. Underneath the InFocus logo on the back is an NFC induction zone. Unfortunately, it does not support wireless recharging.
The sides of the phone are made of aluminum alloy and only have a width of 6.99mm.
Right side: These are not SIM card slots. One of them is a microSD memory card slot which can provide up to 64GB.
On the top: Micro USB port, noise-cancelling microphone, and 3.5mm earphone jack.
Left: The volume and power buttons which can be operated by one hand.
5mp/13mp camera
The InFocus M810 uses a Sony Exmor R 5mp/13mp dual camera. The main camera has a F2.2 aperture and can cover a 28mm wide angle. It also has a built-in image processing engine from iCatch. The camera has several features including panorama mode, HDR, etc. It can also record 1080p videos.
The rear-facing camera has 13mp and LED flash.
The front camera has 5mp.
It uses Android KitKat
Regarding the InFocus M810's software, this phone uses the Android 4.4.2 KitKat for its operating system and the InLife UI for its interface. It can be exchanged for a simpler and more feasible mode for the elderly. Furthermore, this phone has a lot of built in functions. Because it uses the Qualcomm Snapdragon 801 quad-core processor (2.5GHz) and has 2GB RAM, it offers excellent performance, scoring 36583 in the Antutu benchmark exam.
The M810 comes with many third-party apps.
If older users find many of the InFocus M810's functions too complicated, they could change the interface to simple mode which enlarges the interface's tabs and font.
Related posts