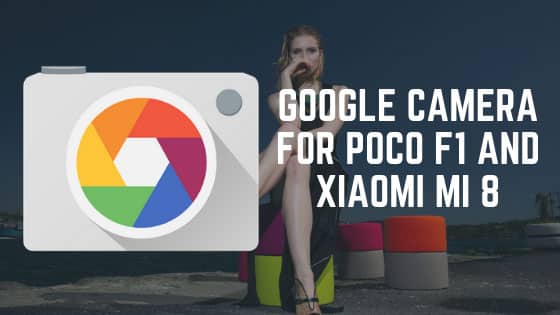 Google Camera is probably the most popular camera app outside of the Play Store. That would explain the numerous attempts for porting to non-Google handsets. Since the launch of Google pixel and its amazing HDR + Tech, everyone has to get their hands on them. And people have been quite successful to an extent. Google's camera is becoming more and more devices ported. Xiaomi Mi 8 and the much talked about Poco F1 can now be included on the list of such devices. Both devices are powered by Qualcomm Snapdragon 845. Here's how to install Google Camera on Xiaomi Mi 8 without root.
Download Google Camera APK (with Portrait Mode) for Xiaomi Mi 8 and Poco F1
 Download Google Camera APK for Xiaomi
Mirror 2 MGC_5.1.018_MI8_V1b .apk  
You can install this app just like any other normal APK. But you need to know only one thing, to open an app you need to select required shortcut because there will be two Camera app in your app drawer. Since this is not a root-enabled app, your stock camera won't be replaced. So you have two option to use your camera. You can compare default and Google camera 😉
Google Camera info
Much of the demand for Google Camera ports is due to the software-based HDR + technology. HDR + allows the average user an easy way to capture stunning photos with the smartphone cameras. A user does not have to provide learning manual photography to use or edit RAW images. A Ukrainian developer to device B-S-G on the forum 4PDA was named to the Hexagon 680 ISP in the harbor a working Google Camera APK with HDR + processing transfers (found on the Snapdragon 820, 821 and 835 SoCs).
This developer is the reason for many Google camera ports for as many devices. He only posts about 4PDA, which is a Russian forum. 4PDA crowdfunding uses the developer to send a Xiaomi Mi 8 and the developer has now written a functioning Google camera connection for the device. Since the Poco F1 pretty much the same device when it comes to the internal hardware, the port is also working on it. Unfortunately although some key features missing. Also one can not find any images with HDR + take rotated with the Google camera port on the Xiaomi Poco F1 and the Xiaomi Mi 8. This connection is still very much a work in progress and is in an early development stage. You can expect frequent updates and quite a few mistakes here and there.
What works on this app for Xiaomi
Portrait mode (front and rear)
HDR +
video recording
What does not work
ZSL
slow motion
Smart burst
How to Install Google Camera on Xiaomi Mi 8 and Poco F1
Download Google Camera app file for Xiaomi Mi 8 and Poco F1 to your PC.
Connect the phone to the PC by using a USB cable.
Enable MTP/Transfer Files mode on your Xiaomi smartphone.
Transfer the downloaded APK file to the storage of your phone.
Open the file manager app on your phone. For example Solid explorer.
Find the app you recently uploaded.
Tap on the 'Google-Camera-for-Xiaomi.droidfeats.com.apk' file.
Now, follow the instructions and install Google Camera App with Portrait Mode.
That's it, now you have two cameras apps on your smartphone.
How to Use Google Camera App on Xiaomi Mi 8 and Poco F1?
Once the installation process is over, then open the app drawer and launch the new camera app. As you launch the app for the first time, you see prompts to seek required permissions. Then, you would see a few infographics. This would help you can get accustomed with the Google camera app with Portrait mode.
Related posts