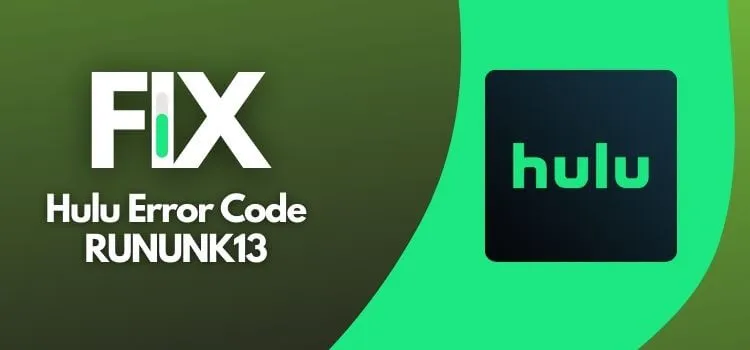 If you're an avid Hulu user, you've probably encountered the RUNUNK13 error code at some point. It can be frustrating, but fear not – we're here to guide you through troubleshooting steps to get you back to enjoying your favorite shows and movies hassle-free.  We understand your frustration, and in this article, we're here to provide you with an in-depth guide on how to resolve this issue and get back to seamless streaming.
Understanding the Hulu Error RUNUNK13
Before we delve into the solutions, let's first grasp why this error occurs. The Hulu error code RUNUNK13 can manifest for several reasons, including:
Internet Disconnection: A poor or unstable internet connection can disrupt your Hulu streaming experience.
Outdated Hulu Application: Using an outdated version of the Hulu app can lead to playback issues.
Corrupt Data or Cache: Accumulated data or cache in the Hulu application or browser can cause playback errors.
Compatibility Issues: Sometimes, the Hulu app may not work seamlessly with your device.
Server Outages: Temporary server issues on Hulu's end can also result in the RUNUNK13 error.
Bugs in the Hulu App: Software bugs can occasionally lead to error codes.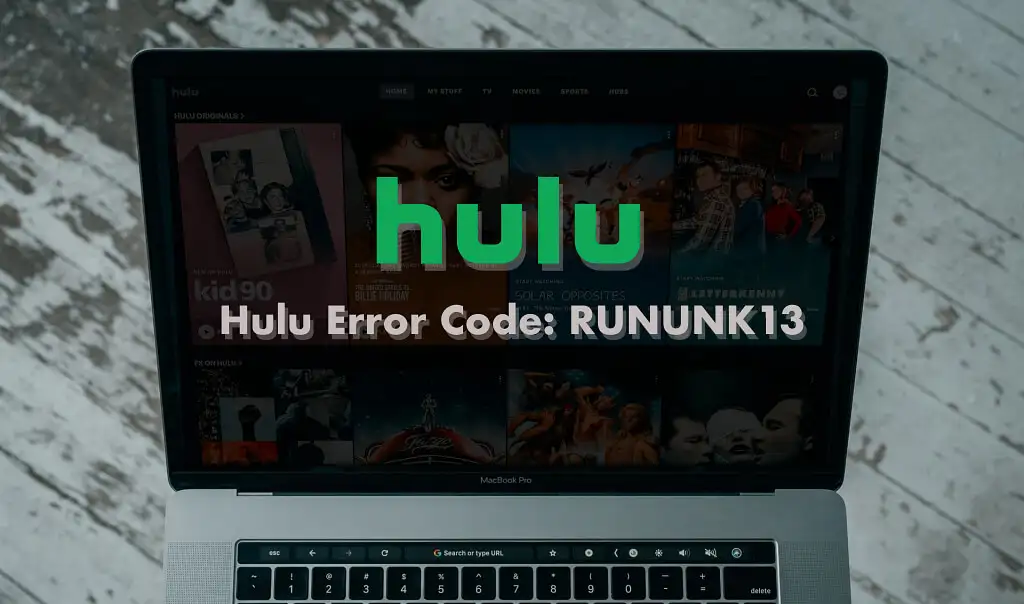 Also read: Hulu Error Code P-TS207
Troubleshoot Your Internet Connection
One of the most common culprits behind the RUNUNK13 error code is an unstable internet connection. Hulu recommends specific connection speeds for different video quality levels. Ensure your connection meets these requirements:
Hulu Streaming Library: Minimum 3 Mbps
Live Streams: 8 Mbps
UHD/4K Content: 16 Mbps
You can check your internet speed by visiting Fast.com in your browser. If your speed falls short, disconnect other devices sharing your network and pause data-heavy activities.
Check Hulu Server Status
Before diving into troubleshooting, it's wise to check if Hulu's servers are experiencing any issues. Utilize online-based site monitoring tools like DownDetector to verify if others are reporting similar problems. If server issues are detected, reach out to Hulu Support for updates.
Force Close Hulu and Clear the App Cache
Temporary glitches or corrupted files within the Hulu app can trigger errors. Here's how to resolve this: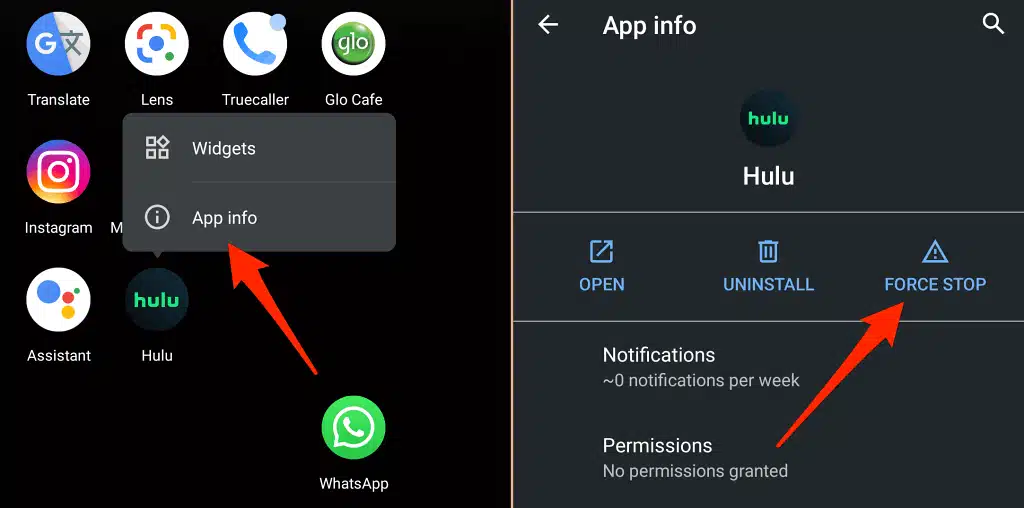 Android Devices: Long-press the Hulu app icon, select the info icon, tap "Force Close," and then relaunch the app. If the issue persists, go to the app info page, select "Storage & cache," and tap "Clear Cache" to remove temporary files.
Fire TV Devices: Navigate to Settings > Applications > Manage Installed Applications > Hulu. Choose "Force Stop" and also select "Clear cache" to delete temporary files.
Update the Hulu App
Hulu frequently releases updates that enhance performance and fix errors. Ensure you're using the latest version of the Hulu app by visiting your device's app store or checking the Hulu system and app updates page for specific instructions.
Update Your Browser
If you're streaming Hulu through a web browser, keeping your browser up to date is crucial. Outdated or buggy browsers can lead to connectivity problems. Here's how to update popular browsers:
Google Chrome and Microsoft Edge: Click the browser menu icon > Settings > About Chrome/About Microsoft Edge.
Mozilla Firefox: Open browser Settings > General > "Firefox Updates." Select "Check for updates" and restart if an update has been downloaded.
Safari (macOS): Go to System Preferences > Software Update > Upgrade Now or Update Now to install the latest macOS update.
Clear Hulu Cookies and Site Data
If you're still encountering the RUNUNK13 error in your web browser, clearing Hulu's cookies and site data can often resolve the issue. Please note that this will log you out of your Hulu account and reset site preferences. Here's how to do it in various browsers:
Chrome: Paste chrome://settings/siteData in the address bar, search for "hulu," and select "Remove All."
Mozilla Firefox: Paste about:preferences#privacy in the address bar, scroll to "Cookies and Site Data," and choose "Manage Data." Search for "hulu" and select "Remove All Shown."
Safari: Launch Safari, go to Preferences > Privacy, and select "Manage Website Data." Search for "hulu" and choose "Remove All."
Also read: Fix YouTube Audio Renderer Error 
Reboot Your Device
Sometimes, a simple restart can work wonders. Whether you're using a smartphone, tablet, smart TV, streaming device, or gaming console, a quick reboot can resolve many issues. After the restart, try playing content on Hulu again.
Hulu Error Code RUNUNK13: More Troubleshooting Fixes
If none of the above steps resolve the RUNUNK13 error on your device, consider updating your device's software or firmware to the latest versions. You can also try resetting your device's network settings to factory defaults. If all else fails, don't hesitate to reach out to Hulu Support for further assistance.
Now that you have a comprehensive guide to tackle the RUNUNK13 error, you can get back to enjoying seamless Hulu streaming. Happy binge-watching!
Frequently Asked Questions (FAQs)
What causes the Hulu Error Code RUNUNK13?

The RUNUNK13 error on Hulu is often related to network issues, server problems on Hulu's end, or glitches in the Hulu app itself.

How can I check my internet speed?
Should I clear cookies and site data in my browser?

Clearing Hulu's cookies and site data can help resolve some issues, but it will log you out of your Hulu account and reset site preferences.

Why is it important to keep my browser updated?

Outdated browsers can have bugs and connectivity problems. Keeping your browser up to date ensures a smoother streaming experience.

What should I do if none of the troubleshooting steps work?

If none of the steps resolve the error, consider updating your device's software or firmware and resetting network settings. If the problem persists, contact Hulu Support.

How often does Hulu release app updates?

Hulu releases app updates regularly to improve performance and fix errors. It's advisable to update your app as soon as new versions become available.

Can I use Hulu on different devices with the same account?

Yes, you can use one Hulu account on multiple devices, but there may be limitations on simultaneous streaming, depending on your subscription plan.

What are the recommended internet speeds for streaming on Hulu?

Hulu recommends a minimum of 3 Mbps for its Streaming Library, 8 Mbps for live streams, and 16 Mbps for UHD/4K content.

How can I contact Hulu Support?

You can contact Hulu Support through their official website or app for assistance with any issues.

Is Hulu available on all web browsers?

Hulu is supported on major web browsers, including Google Chrome, Mozilla Firefox, Safari (macOS only), and Microsoft Edge (Windows only). Ensure your browser is up to date for the best experience.
Related posts