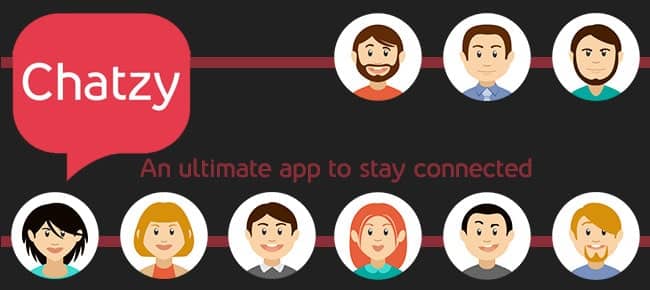 Chatzy is one of the free private chat service which you can use to communicate with other people you already know or people who visits your blog or website. With Chatzy you can create a chatroom and send out email invitations very quickly and easily you may want to talk to other people anonymously. You may want to talk on different topics with a bunch of people who are complete strangers without revealing your real identity. So Chatzy is one of the best options for you.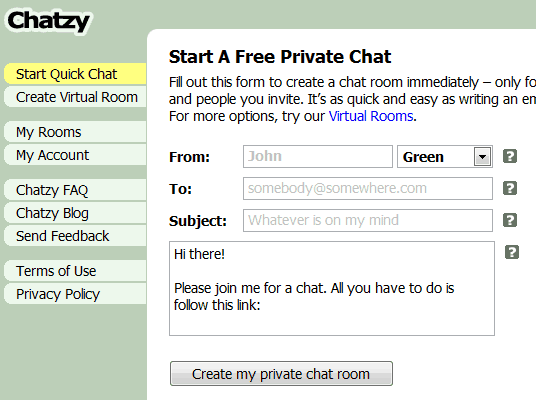 Features Of Chatzy
Chatzy is a popular chatroom service which offers you a lot of amazing features. All these features make it very easy and simple to chat with strangers anonymously. So, let's get to know more about the features of Chatzy.
No Registration Required
This is a great thing about Chatzy that it doesn't require a registration to use the basic features. You can enter any chatroom without even registering to the site. If you only want to test the site or need to chat temporarily then you can enter the chatrooms without registration. But there are limited features available when you use Chatzy with registration.
Also read: Top 5 ChatStep Alternatives
Visitor Status
Just like most of the social media sites, you can also set your status on Chatzy only if you are registered with it. You can set the visitor status and it will appear on your visitor's pane. Anyone can view the visitor status. There are three things in visitor status. First is status which shows your online status, away shows the away message, you can set an away message when you are leaving the chat and inform people when will you be back and the last one is "leave" which marks your exit from the chatroom.
Global Messages
Another feature of Chatzy is Global messages. Basically, this message feature is for the chatroom administrator. If you have registered to Chatzy and created a chatroom or you are an administrator of any chatroom then you can send global messages to all the members of the chatroom. Only room administrator can send the global messages but you can also change the settings if you want toa allow every member of the room to send global messages.
Locally Saved Messages
As Chatzy lets you talk to strangers and any user of this site and you can even join any chatroom, Chatzy makes it easier for you to find the people and the chatroom you joined. It saves all the chatrooms you join and also the messages you send or receive from other members. So whenever you want to join the same chatroom or wanna talk to the members you have already talked with then these locally saved messages will help you.
Private Messages
When you chat in a chatroom then every member of the chatroom can read your message as you are doing a discussion here. But if you want to chat with a member privately so that no one else can read your messages, you can send the private messages to any member of the chatroom.
Also read: Maybe you didn't know about Rainierland
Close Chat Temporarily
If you are a chatroom administrator then you have the right to close the chat temporarily. If there is a discussion going on in your chatroom but you need to do something else then simply close the chat temporarily and after your work is done you can restart the chatroom.
Preview Mode
The preview mode of Chatzy lets you can easily follow any conversation silently. But this feature is only available for the chatroom administrators and the moderators.
Room Board
You can also set room rules reminder or any message to the room with room board. This message appears in the upper part of the room. It is highlighted and moving.
Silence Newbies/Unregistered Users
When there are new people who joined Chatzy for the very first time, enters any chatroom they get very excited and may send some inappropriate messages too. So, to prevent this, you can silence the newbies as well as the unregistered users on Chatzy.
Ignore Visitors
If someone is bothering you on Chatzy by sending messages or something then you can ignore them. This feature will stop showing any post from those users and also they won't be able to send you messages.
Also read: Backpage Alternative Websites 2019
Steps To Create Virtual Chat Room With Chatzy
Now let us know how to create a virtual chatroom with Chatzy. Actually, it is pretty simple. You just have to follow the below steps. Here we go…
First, you need to visit the official website of Chatzy. Go to https://www.chatzy.com/.


Chatzy lets you create a quick chatroom without the registration. But if you want toa create a virtual room, you need to first register to the site. For the same, click on Login/signup option available at the top right corner.

It doesn't ask for many details for the registration, you just have to enter email id and that's all.

It will then send you an email containing an OTP. You need to enter the OTP on Chatzy in order to complete the registration. It will also ask you to set your password.

After that, log in to Chatzy. Now you need to click on Create Virtual Room option available at the left sidebar.

It will show up a form where you need to save the details of your room and choose from the given options. You can set the room password, admin password, room style, room skin, time options, show locations and so on.

At last, click the Create My Room option and that's it. Your room is ready and now you can invite as many people as you want to your virtual chatroom.
Also read: Best Sites Like Omegle – Chat With Random People Online
This way you can create as many virtual chatrooms you want on Chatzy and find all your rooms, in the room section in the left sidebar. You also join any chatroom of your choice and connect with new people on Chatzy. It is a great website to have fun and also discuss things with strangers.
Related posts