The LG IMS error typically occurs when there are problems with the phone's IMS app or corrupted network settings. Issues with the IMS app may include outdated software, corrupted cache or storage, among others. This error is commonly reported following an operating system update.
The LG IMS error can occur randomly, sometimes appearing as frequently as 10 to 20 times per minute, which can make using the phone almost impossible. This error is not specific to any particular carrier or country, but it has been reported more frequently by T-Mobile or Boost users. Moreover, the error is not limited to specific types or models of LG smartphones and has been reported on various LG devices.
Also read: What Is com.dti.folderlauncher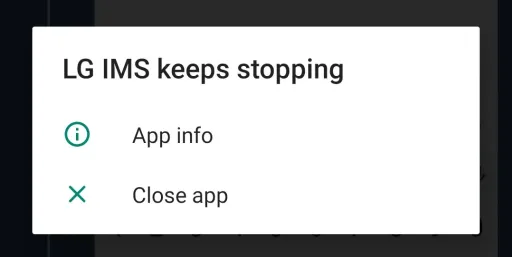 What is LG's IMS App?
LG phones come with the IMS app, which allows users to send and receive text messages over 4G LTE and 5G networks. While this app is a useful feature, some LG customers have reported issues with it not working properly.
Users have reported receiving error messages indicating that LG IMS has stopped working, which can occur due to various reasons, including outdated apps, corrupt cache or storage, or network settings. These issues have been reported on T-Mobile and Metro by T-Mobile networks.
However, the good news is that LG has started investigating these issues, which have been reported by users of various LG phone models.
Also read:  Com.Coremobility.App.Vnotes
How to fix LG IMS has Stopped Error 2023
Resolving the error message "Unfortunately LG IMS Has Stopped" on LG smartphones is not a difficult task. If you are experiencing this issue, there are some potential solutions you can try. Below are some fixes to address this problem. Let's explore them:
Restart Your Phone
If you're experiencing the "LG IMS has stopped" error on your LG device, one simple solution is to reboot your device. It's possible that your device has a bug file that is preventing the IMS app from working properly, and rebooting can help clear these files from your device's RAM. This should resolve the error and prevent the app from crashing in the future.
Clear The Cache Data
If you are experiencing the "LG IMS keeps stopping" issue on your LG device, another solution is to clear the app's cache data. Many users have reported that clearing the cache files for the LG IMS app on their device has resolved the problem.
To clear the cache data of the LG IMS app, you can follow these steps:
Go to "Settings" on your LG device.
Scroll down and select "Apps & notifications."
Locate and tap on "IMS Service."
Tap on "Storage & cache."
Select "Clear cache."
After clearing the cache data, restart your device and check if the problem is resolved.
Enable and Disable Airplane Mode of the LG Phone
To resolve the issue, you may try enabling and disabling the airplane mode on your LG phone to re-establish its internet connection. This may help fix the problem.
Keep in mind that the error message may keep appearing on your screen repeatedly, making it difficult to troubleshoot. If this happens, you can try putting your phone into airplane mode to proceed with the troubleshooting process. If the steps require an internet connection, you can enable Wi-Fi while keeping the airplane mode enabled during the troubleshooting process.
Disable The App
One possible consequence of the LG IMS app errors is the inability to use WiFi calling or VoLTE services. To prevent this, you can disable the app on your LG phone by following these steps:
Dial 277634#*#.
Select Field Test, Modem Settings, and toggle VoLTE on/off.
Finally, restart the device to complete the process.
Update the LG IMS App to the Latest Build
If the LG IMS app on your phone is missing the latest patches from LG, it might become incompatible with your phone's carrier, resulting in the LG IMS error. In such cases, updating the LG IMS app to the latest build might resolve the issue.
Here's how you can update the LG IMS app on your phone:
Open the Settings app on your LG phone and select General or System.
Tap on Update Center and then select App Updates.
Look for LG IMS Improved and tap on Download.
Wait until the update installs and then check if the LG IMS error is resolved.
Reinstall The App
If you are still encountering the LG IMS keeps stopping problem despite trying the aforementioned solutions, we suggest reinstalling the app on your LG device. Many users have reported that reinstalling the LG IMS app resolved the keep-stopping issue on their device. Therefore, it is worth giving it a try.
Is LG IMS a Virus or Spyware?
Misunderstandings can arise when people associate certain features or apps on their devices with viruses or malicious software. This is also the case with LG IMS, a system app that has been criticized by some users. However, it is important to note that the LG IMS framework is not malware. In other words, using features such as WiFi calling or other IP multimedia functions does not result in unauthorized data transmission to third parties.
Conclusion
In conclusion, these are the steps to fix the error message "unfortunately LG IMS has stopped" on LG smartphones. We hope this guide has been helpful. If you have any questions or concerns about this topic, please feel free to leave a comment below.
Related posts