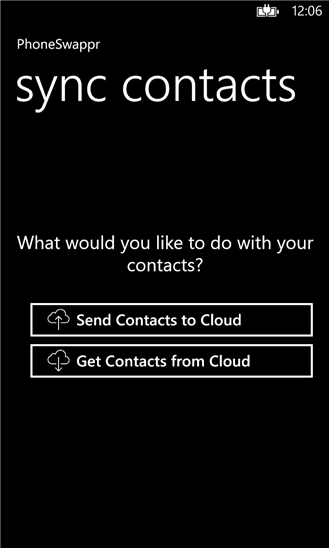 Switching phones isn't something we do daily, but whenever we do switch them we face a lot of issues and problems especially while transferring contacts and data from our old phone to new phone. Considering the lack of Bluetooth transfer on iPhone it becomes even more tedious task. But not anymore, we present you a very easy method to transfer all your contacts from Windows Phone / Lumia to iPhone 4/5/6  or even iPad without PC by using PhoneSwappr app! . Its quite easy to use and requires no PC access at all .




Features of PhoneSwappr
Supports transfer of Contacts from Windows Phone to Android/iPhone as well as vice versa .
Stores the Contacts from your device on the Cloud for 7 days, providing you ample time to store the contacts.
All the contacts stored on the cloud are encrypted with a security key, which is only shared with you. Thus, providing total security of your contacts.
The App can be installed on multiple devices thus, allowing download of contacts to multiple devices where a large number of contacts need to be shared between two or more phones.
No need of any registration/account Sign-Up! . Simple contacts transfer by using Internet on both the devices.
Tutorial
First of All download and install the appropriate PhoneSwappr version on your Phones, depending upon their OS.
Click here to Download PhoneSwappr for Windows Phone.
Click here to Download PhoneSwappr for iOS/iPhone.
Now, First of all Install the application on both the phones .
 After you install it Open the App on your Old Phone/ Windows Phone from which contacts have to be retrieved (imported) , It'll present you a screen which looks like below –
Here select the Option "Send Contacts to Cloud"  . Now, all your contacts will start getting uploaded to the Cloud, and once all the contacts are uploaded you will be shown an image with the key/pin as shown below. (Please Note down this Pin as we will use it later to retrieve our contacts ).
Now  open the PhoneSwappr app on your (iPhone / iPad) new phone and select the option "Get contacts from the Cloud". 
Now, enter the Pin which we have noted down earlier to start the contacts download! . It will start downloading contacts as shown below – and once it gets downloaded you will be presented with a completion screen as shown below –
Related posts