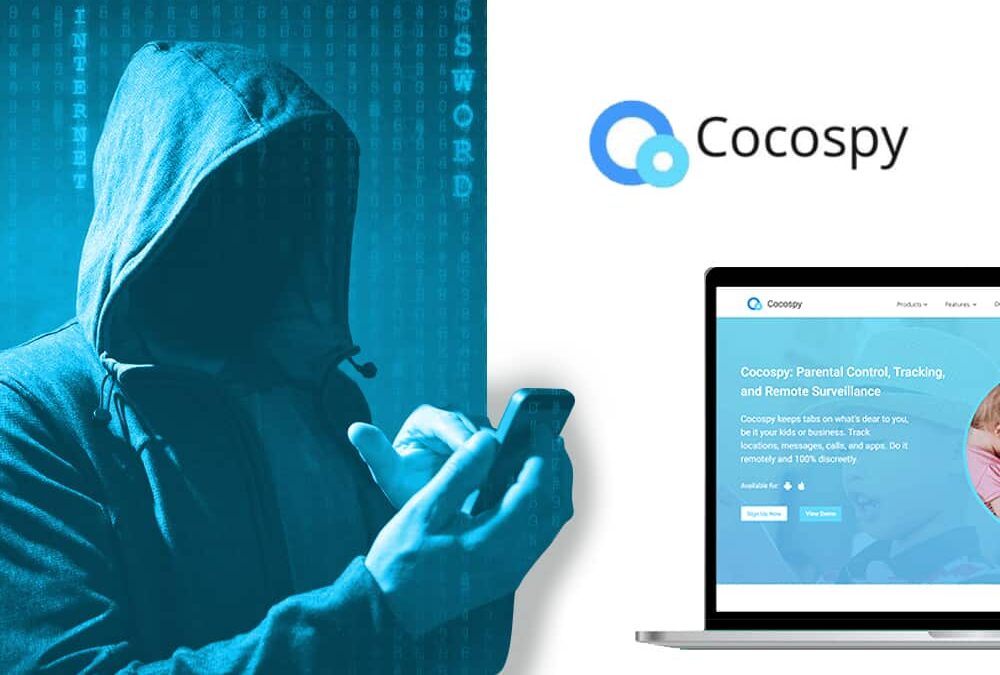 In today's digital age, our children have unprecedented access to the vast world of the internet, along with its wonders and potential hazards. Shockingly, according to a CNN article, the average age at which children are exposed to adult content is just 12 years old. Such content, alongside various apps, can expose them to explicit material and even predators. As responsible parents or guardians, it's crucial to monitor our children's online activities to ensure their safety. One effective way to achieve this is through the use of a parental control app, and in this comprehensive review, we'll delve into how Cocospy can empower you to protect your child as they navigate the online realm.
Cocospy: Your Digital Guardian
Before we proceed, it's essential to highlight a crucial security note: Beware of a scam website impersonating Cocospy. To safeguard your online safety, please refrain from using the .com version of the Cocospy website. The legitimate website of Cocospy is cocospy.org.
Now, let's explore the extensive benefits and functionalities of Cocospy:
Cocospy Benefits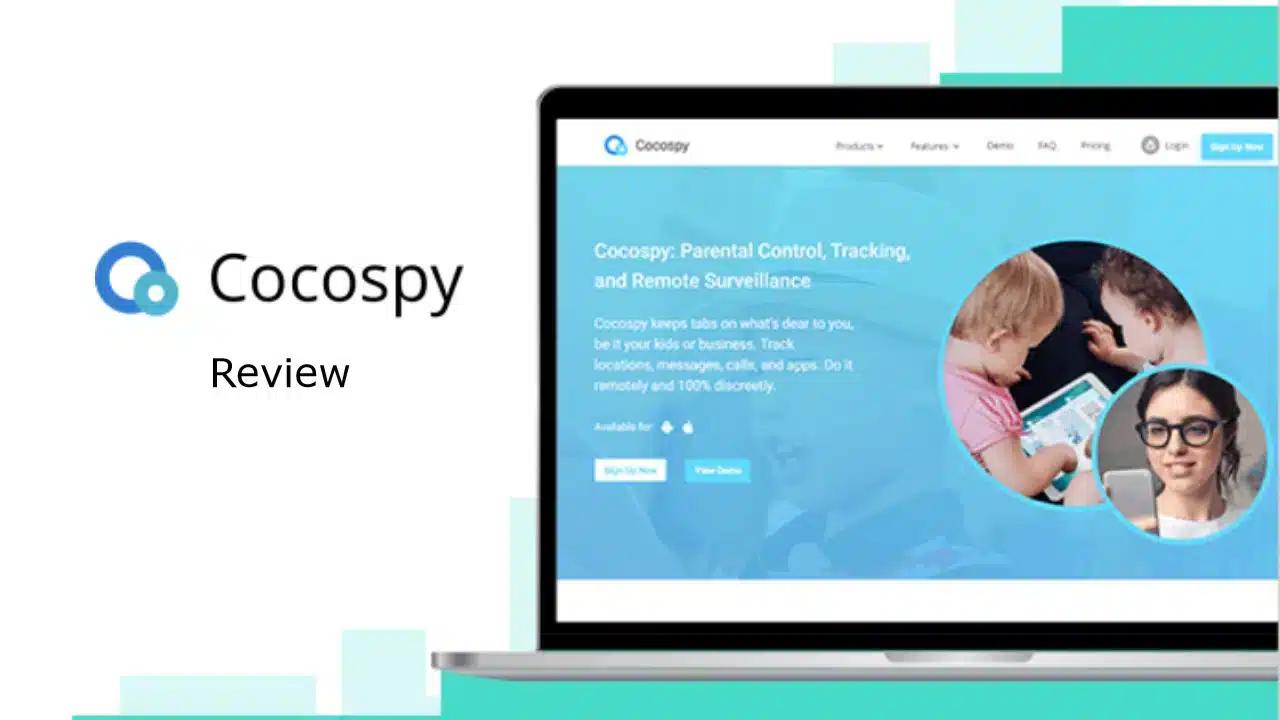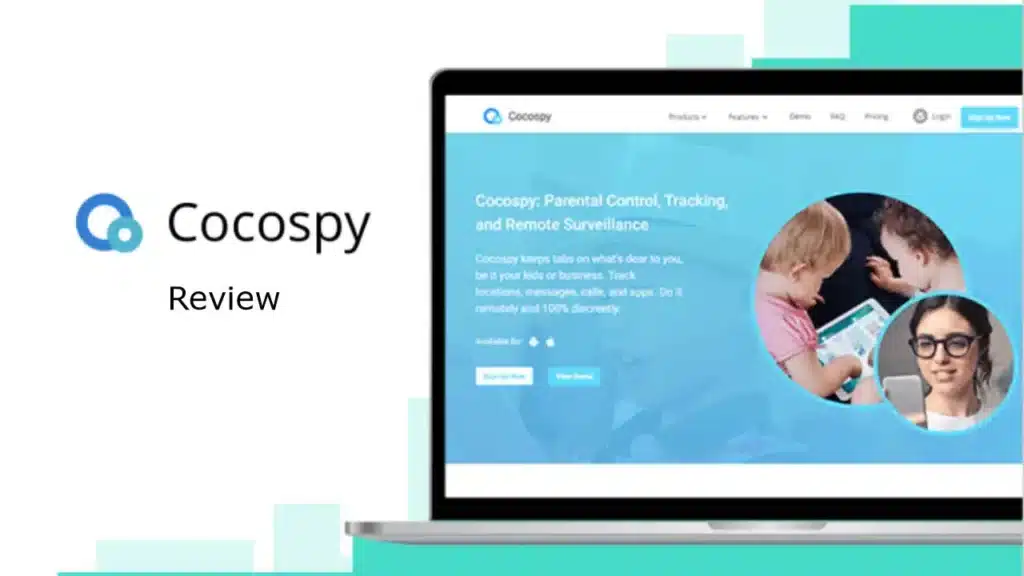 Today, our children are exposed to the internet's vastness, which contains both wonders and horrors. The statistics are alarming, with CNN reporting that the average age at which children encounter adult content is just 12 years old. Such content, alongside various apps, can expose them to explicit material and even predators. Therefore, as a responsible parent or guardian, it's crucial to monitor your child's online activities, and Cocospy offers an effective solution for this purpose.
Cocospy is a spy app designed to empower you to monitor your child's target phone activity comprehensively. This includes tracking their text messages, internet history, call logs, social media activity, and much more. Allow us to demonstrate how Cocospy surpasses other spy apps currently on the market.
Cocospy Features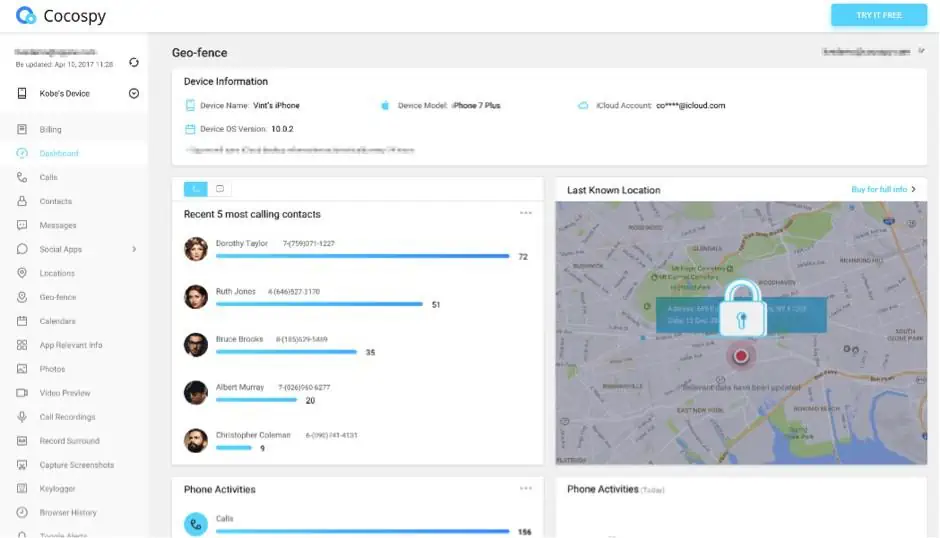 Cocospy is packed with an array of features designed to give you complete control over monitoring your child's digital activities. Let's delve into its various functionalities:
General Monitoring
Under this category, Cocospy enables you to monitor fundamental aspects of your child's smartphone usage:
Calls
Cocospy allows you to track call logs on the target device. You can view the numbers contacted, whether the call was received, missed, or outgoing, as well as call duration, date, and timestamp. Additionally, you can remotely block numbers from your Cocospy dashboard.
Address Book
The Address Book feature provides a list of all contacts stored on the target device. This straightforward functionality allows you to remotely view the contact list on your target cell phone.
Messages
With Cocospy, you can discreetly monitor your child's text messages. This feature displays sent and received messages, complete with timestamps, and allows you to read the content. If necessary, you can block specific numbers.
Location Tracking
No comprehensive monitoring app is complete without location tracking, and Cocospy excels in this regard. You can track the target Android device's location, which includes the address, longitude, latitude, date, and an option to view the location on Google Maps. However, it's important to note that Cocospy lacks a geofencing feature.
Keylogger
The keylogger feature records everything typed on the target smartphone. This serves as a valuable tool for ensuring your child isn't engaging in inappropriate online conversations. It can also help you keep track of important passwords.
Applications
Cocospy allows you to see all the apps installed on the target phone. You can view the installation date and status (enabled or disabled) of each app. Furthermore, you have the capability to remotely block and delete apps from your Cocospy dashboard. This feature is particularly useful as it can help you maintain control over your child's device, especially when they attempt to bypass parental controls.
App Activity
The App Activity section provides insights into which apps are actively in use and for how long. While not as crucial as other features, it can still provide valuable information about your child's smartphone habits.
Spyware Scanner
For enhanced security, Cocospy includes a Spyware Scanner. This tool allows you to remotely scan the target device for any installed spyware. It's an essential feature for protecting your child's privacy and security online.
Social Media Monitoring
Given the prevalence of cyberbullying and inappropriate online behavior, Cocospy's social media monitoring features offer peace of mind:
Supported Platforms
Cocospy covers a wide range of social media platforms, ensuring that you stay informed about your child's online interactions. Some of the supported platforms include:
WhatsApp
Facebook
Facebook Messenger
Instagram
Snapchat
TikTok
YouTube
Reddit
Discord
Dating Apps
In addition to general social media, Cocospy also monitors dating apps. Given the increasing usage of adult dating apps by teenagers, this feature can help you ensure your child's safety in the online dating world.
Media Access
The Media section of Cocospy provides access to the target device's media storage and control over media-capturing features:
Photos
Cocospy's Photos feature allows you to view and download photos stored on the target device. This is crucial for parents concerned about their child sharing inappropriate or sensitive images.
Videos
Similarly, the Videos section enables you to view and download videos stored on the target device. This ensures that you have insight into the multimedia content your child is engaging with.
Audio & Video Stream
Cocospy introduces experimental features that allow you to utilize the target device's microphone and camera to record audio and video of the surrounding area. While these features are not guaranteed to work flawlessly, they can serve as valuable tools, particularly in emergency situations.
Photo Snapshot
The Photo Snapshot feature enables you to remotely capture pictures using the target device's front or rear camera. This feature can be particularly useful in emergencies or for documenting specific situations.
Internet Activity Tracking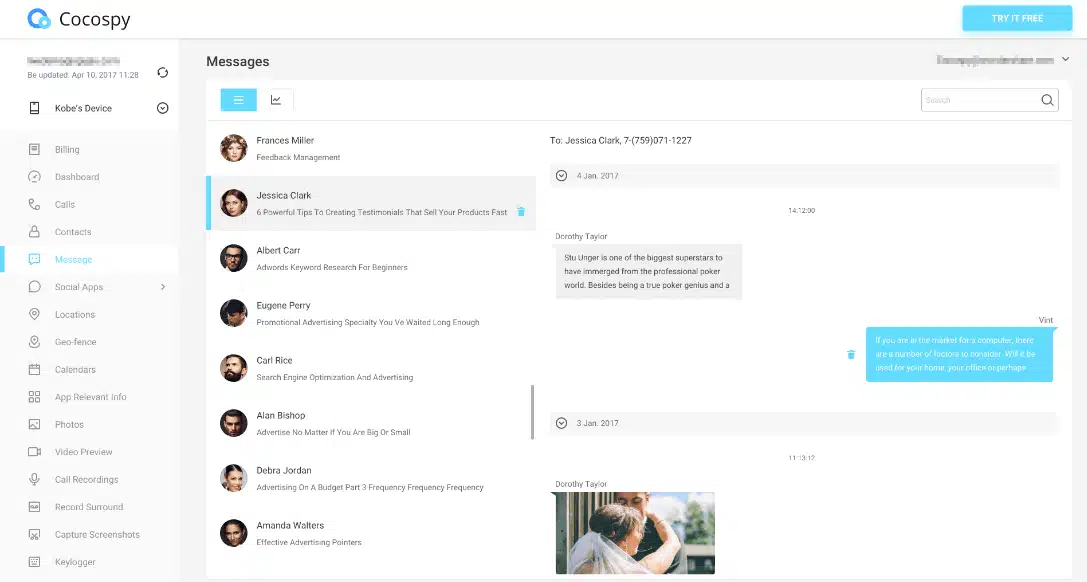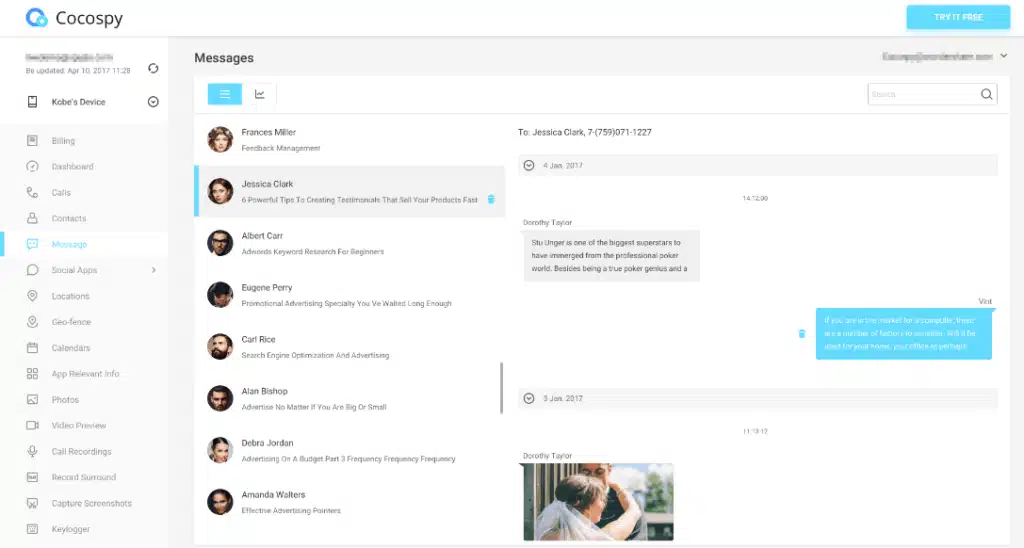 The Internet monitoring section is of utmost importance for parents concerned about their child's exposure to inappropriate online content:
Browsers
Cocospy allows you to view screenshots of the browsers on the target phone. Impressively, it covers a wide range of browsers, including default and downloadable options, totaling 46 different browsers. This extensive coverage ensures that you can monitor even less common mobile browsers.
Notable browsers in the list include:
Google Chrome
Firefox Browser
Dolphin Browser
Samsung Internet Browser
Opera Mini
Email
The email tracking feature provides insight into emails sent and received on the target phone. It supports a variety of email apps, including:
Gmail
Microsoft Outlook
Yahoo Mail
Samsung Email
Contrary to common perception, many children still use email, making this feature essential for comprehensive monitoring.
Browser History
Cocospy enables you to view the browsing history on the target device. This feature provides detailed information, including website titles, URLs, visit dates, visit frequencies, and the ability to block specific websites. Monitoring browser history is vital for ensuring your child's online safety.
Browser Bookmarks
In addition to viewing browsing history, Cocospy allows you to access the browser bookmarks on the target device. Although browser history is typically more critical, this feature can still be valuable in certain situations.
Wi-Fi
The Wi-Fi feature provides insights into the Wi-Fi networks the target device connects to. While not a primary monitoring feature, it can offer additional context about your child's digital activities.
Does Cocospy Work?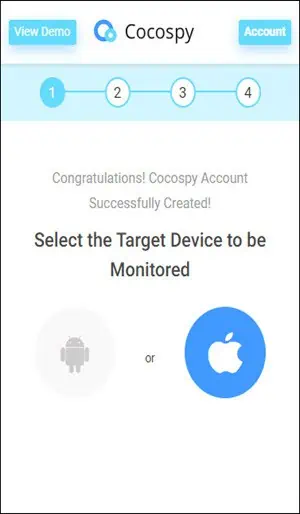 For the purpose of this review, we tested the Android version of Cocospy, and the results were impressive. Installing Cocospy was a straightforward process, thanks to its automatic setup, which streamlines the installation process and minimizes user effort.
After installation, Cocospy required a brief synchronization period to fully access all data, including photos and videos. However, this is a minor inconvenience considering the wealth of information it provides.
Potential Problems With Cocospy
While Cocospy excels in numerous areas, there are a couple of potential drawbacks to be aware of:
User Interface
One notable issue is the color scheme of Cocospy's dashboard. The predominantly white and light blue interface with light grey text can be challenging to read, especially during extended usage. Some users may find it necessary to take occasional breaks to alleviate eye strain.
Multiple Device Monitoring
Cocospy's limitation in linking only one device at a time to your account may present a challenge if you need to monitor multiple devices simultaneously. To track all your child's devices effectively, you'll need to purchase additional subscriptions.
What We Liked
Despite the aforementioned limitations, there are several aspects of Cocospy that we genuinely appreciated:
Pricing Parity: Cocospy offers consistent pricing for both Android and iOS plans, ensuring fair access to its features.
Feature Richness: Cocospy boasts a wide range of features, encompassing social media, general monitoring, and media tracking.
Social Media Coverage: Cocospy covers a comprehensive list of social media platforms, providing a comprehensive view of your child's online interactions.
Ease of Installation: The automatic setup simplifies the installation process, making it accessible for users of all technical levels.
24/7 Customer Support: Cocospy offers round-the-clock customer support, ensuring assistance is available whenever you need it.
Free Demo: The availability of a free demo allows users to explore Cocospy's features fully before making a commitment.
What We Didn't Like
While Cocospy offers a compelling range of features and benefits, there are some areas where it could improve:
Pricing: Cocospy is relatively more expensive compared to some other spy apps on the market. However, its feature set justifies the cost.
User Interface: The user interface, while easy to navigate, could benefit from a more eye-friendly color scheme to enhance usability during extended use.
Geofencing: Cocospy lacks geofencing features, which can be a valuable addition for parents looking to define safe areas for their children.
Free Trial: Unlike some competitors, Cocospy does not offer a free trial. However, it does provide a free demo to help users assess its capabilities.
In Summary
In our extensive testing and review of Cocospy, we found it to be a highly capable and comprehensive monitoring app. Its wide array of features empowers parents to maintain a vigilant eye on their child's digital activities, ensuring their safety in the ever-evolving online world.
It's essential to emphasize that while Cocospy provides invaluable monitoring capabilities, open and honest communication with your child remains paramount. A monitoring app should not replace dialogue; instead, it should complement it. Engage in conversations with your child about digital safety and the reasons behind your use of monitoring software.
As your child grows older, their privacy becomes increasingly important to them. Engaging them in a discussion about the use of a monitoring app can foster understanding and cooperation. It allows them to participate in the process and ensures they comprehend that your intentions are rooted in their safety rather than control.
In conclusion, Cocospy stands as a robust monitoring solution, offering unparalleled insights into your child's digital world. Its diverse feature set, from general monitoring to social media tracking and media access, equips you with the tools you need to protect your child online effectively.
Related posts