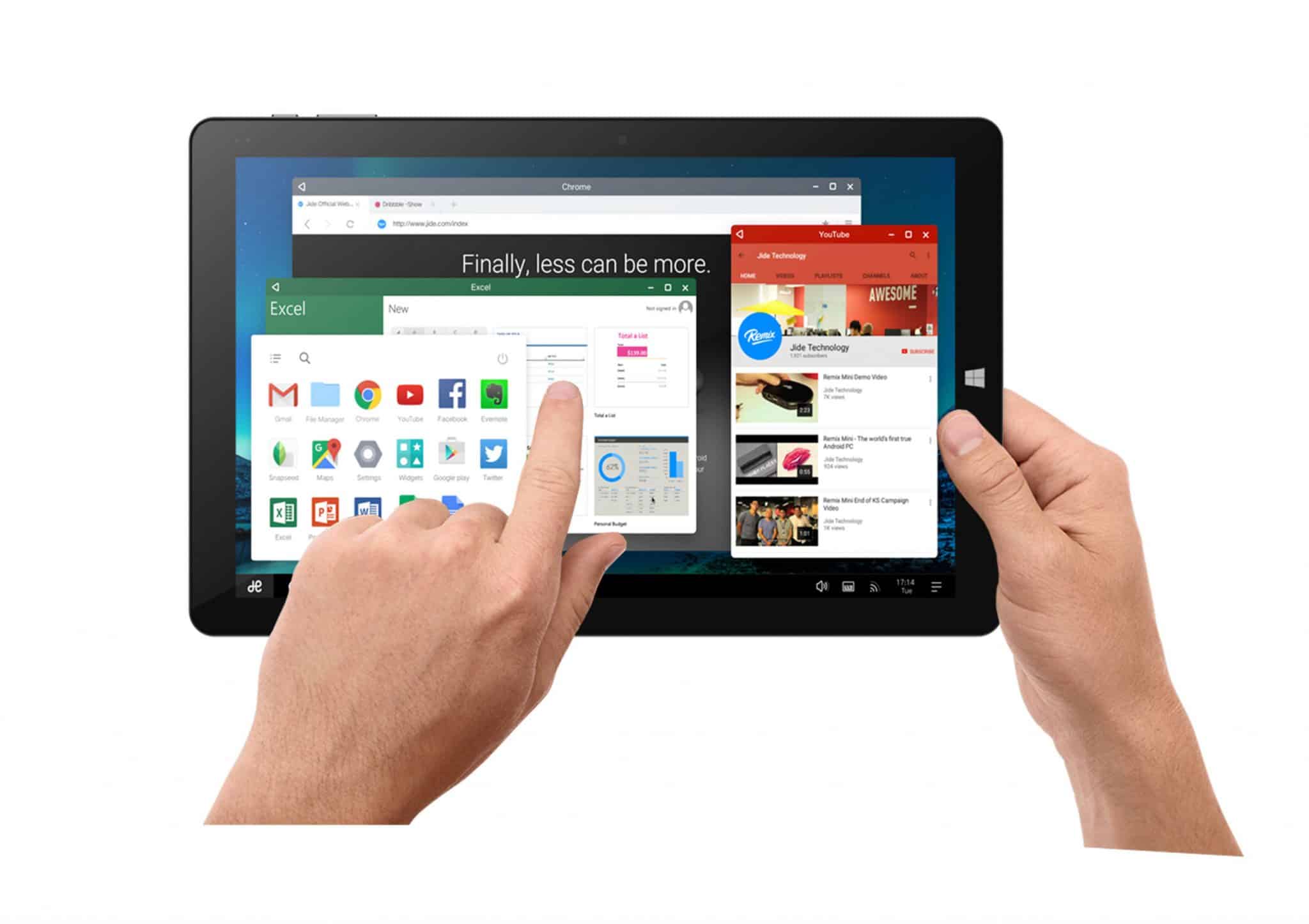 Year ago China company first announced the Chuwi Vi10. This year they recently launched Dual boot tablet Chuwi's Vi10 plus. This incredible device is equipped with a 10.8 inch vivid touch screen along with 1920 X 1280 Resolution, Android+ Windows 10 operating software, 2 GB RAM, 32 GB ROM storage capacity and has an Intel Cherry Trail Z8300 64 bit Quad Core 1.44 GHz processor. This model is well known for being a combination of tablet and laptop.  It also has two full sized USB 2.0 ports, which is rare for a tablet.
While some might think that this is a simple chipset update to the Chuwi Vi10 plus , they are wrong. Not only is the chipset updated, but the screen size has been upped from a 10.1" screen to a 10.8" 3:2 aspect ratio screen, coincidentally (or not so much) the exact same screen the Surface 3 uses. I've used the Surface 3 before and the display was quite lovely. An obvious shot at the Surface 3, the Vi10 Plus is three times cheaper for the tablet alone but runs slightly slower hardware.
Main Features
[tie_list type="plus"]
Display – 10.8 inch
Screen – IPS, Touch, 1920 X 1080
Processor – Intel Cherry Trail Z8300 64bit Quad Core 1.44 GHz
OS – Remix OS 2.0(by default) but Dual switching allowed between Android 5.1 and Windows 10 (rooting is needed for Win10)
Memory – 2 GB RAM, 32 GB ROM
Ports – Two USB slots and one Micro SD (up to 128 GB)
Camera – 2.0 MP front and rear camera
Wi-Fi – Yes
Bluetooth – Yes
Battery – 8400mAh
Weight – 626 g[/tie_list]
Hardware and Design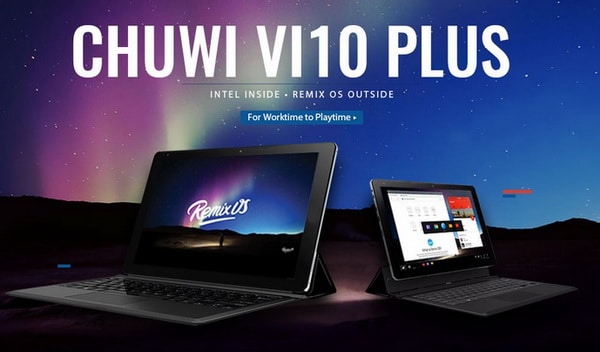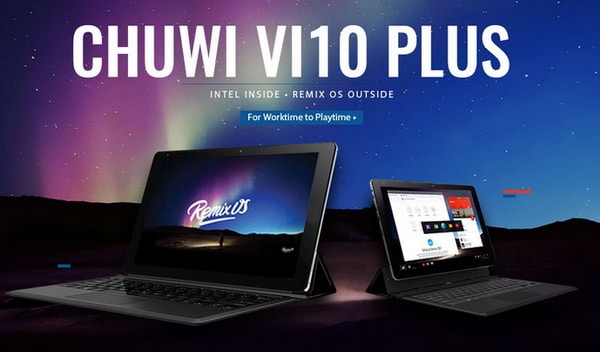 Performance in Remix OS 2.0 is pretty great. While apps do take a second to load and close compared to a high end cell phone, it never takes long enough to be an issue. Multitasking almost never slows down. Android was never designed with multitasking in mind but rather was designed to operate one app at a time.
Chuwi Vi10 Plus uses the Surface 3's screen, the form factor is instantly similar to its Microsoft namesake. If I'm honest, a 10.8" 3:2 tablet is awkward to use sometimes, especially when it weighs over one pound (half a kg). Your arm gets tired quickly as you try to hold on to something with such an awkward ratio; this causes the center of gravity on the tablet to extend farther away from the edges than traditional tablets.
The array of ports are found on the left side, and included is a USB C port, which is a welcome addition to this device. In a world where devices are getting thinner, ports are being taken out and physical connectivity is rarer and rarer. Sadly, Chuwi seems to be following this trend.
The version of the Vi10 Plus I'm testing only runs Jide's Remix OS 2.0 and does not dual boot Windows. That will come in the later version that has 4GB of RAM and 64GB of storage.
Before the release of Remix OS 1.0, dual boot devices used Windows and a stock version of Android. In that case I spent almost all my time in Windows as vanilla Android on a 10" tablet is not as good an experience as Windows is. However, with the release of Remix OS, that has completely flipped around. However, Remix OS 2.0 is much improved over the inaugural release of this productivity focused Lollipop fork.
Display and Screen
The bold, lively, 10.8" display looks incredible. The Full HD (1920×1080) resolution fills the screen from edge to edge and makes it rather tough to see individual pixels from a tablet distance. When using it on the table with a keyboard, it is even harder to differentiate. Even the Macbook has a lower pixel density than the Surface 3.
As mentioned before, the screen reproduces some extremely accurate and lively colours. Flipping through pictures really brings each scene to life as the screen contrasts the colours in such a way only a good screen can. What it lacks in saturation (compared to an AMOLED display) it makes up for in contrast, and this display showcases content at its best. Its maximum brightness stands at an impressive 425 lux, battling it out on the high end of screen brightnesses. The brightness is beautiful in indoor settings, but brightness is only one component in outdoor visibility. The other component, reflection, is what makes it difficult to see the Vi10 Plus in sunlight. The screen is plenty bright for outdoor visibility, but you'll have to fight through plenty of reflections to get to the screen.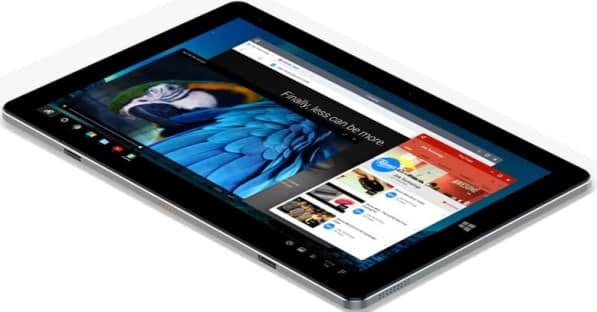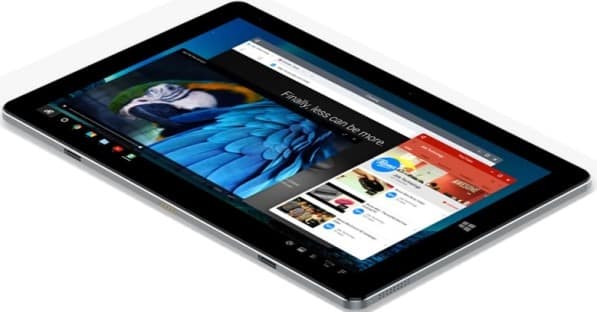 Dual OS Switching (Remix OS & Windows)
Chuwi Vi10 plus uses the Insyde bios switching system to interchange between different operating software. While using Android, you have to pull down the top menu and select the option to switch to Windows. While in Windows, you just have to click the OS Switcher application which will then reboot the tablet into Android in merely 15-20 seconds.
The third way to select your OS is on boot, by holding the volume down button when booting and then selecting the OS which you require using the volume and power on button.
Battery
The Chuwi Vi10 Plus comes with a slightly bigger battery than the Surface 3 and the Chuwi Vi10. At 8400mAh, the Vi10 Plus' battery is about 622mAh bigger than the Surface 3 and 400mAh bigger than the Chuwi Vi10. However, with that being said, I am still expecting slightly less battery life from this tablet compared to the Surface or the Vi10, as the Vi10 Plus has a higher power SoC than the Vi10 and Microsoft's power optimization and heat dissipation will most likely be better than what Chuwi can achieve.
I performed the web browsing test and it died after 7 hours and 8 minutes. I then ran the video playback test and it died after 10 hours and 28 minutes. Surprisingly, the Vi10 Plus matches the Surface 3 in battery longevity in both tests, give or take a few minutes. It also far outpaces the Vi10 in video playback most probably due to significantly reduced power consumption with the new Cherry Trail chip.
The Chuwi Vi10 Plus was able to last me throughout a day quite easily, using the tablet on and off. I had about 5 hours of screen on time, during my activities consisted of web browsing, news, and watching TV shows. At the end of the day, I had 18% left. Quick charging is also an option and I was able to charge from 0-100% in two hours. The Chuwi Vi10 Plus can easily get you through a day of light or medium use, but if you are a heavy user, bring along a charger. A quick 30 minute charge should be enough to top you up for the rest of the day.
But the only pain is when you are charging the tablet, as even with power off, it takes around 5-6 hours to reach from 0% to 100%. It can easily reach 9-10 hours with the tablet running.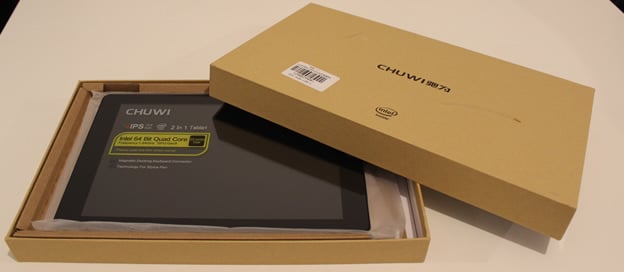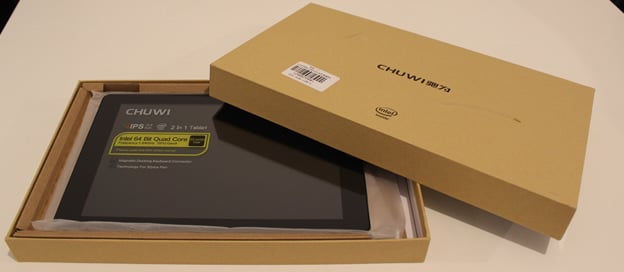 You can buy one from GearBest.com for the best price – €132.76!
Related posts