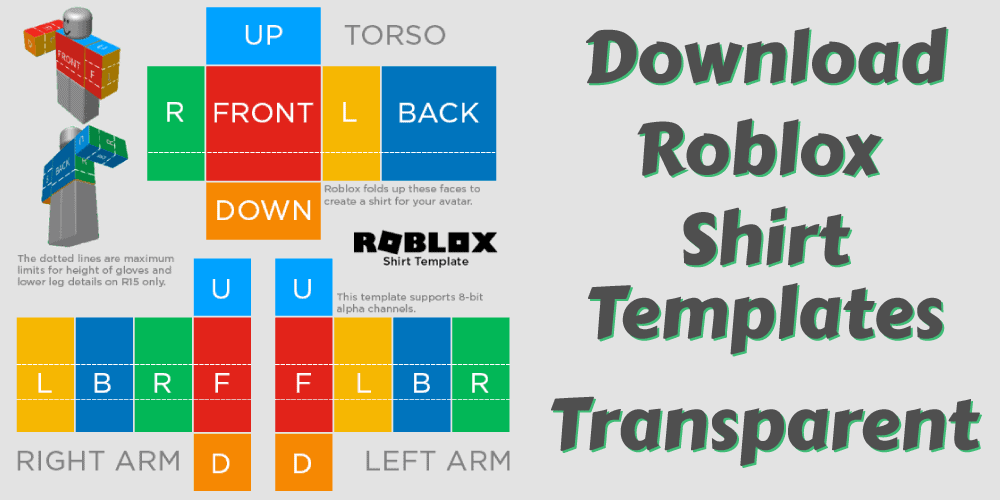 Roblox is one of the most popular games in 2021, with over one and a half million children in the UK only using their platform daily. Most players say that Roblox reminds them of old games like mine craft. However, Roblox has many games, unlike mine craft, and they are free to play as long as you are connected to good internet. The fame this game has attracted has led to the creation of the game merchandise like printed shirts for characters. In-app purchase of the game is a creative way to personalize your avatar.  The best part is that you can make and customize your shirt using your favorite character. There are very many games on Roblox, so everyone can get a favorite character. To create your shirt, you may need a shirt template which Roblox offers and lets you choose your preferred one. This article will give you clear guidance on how to create a transparent Roblox shirt for your character.
A Roblox shirt template will make your work more manageable if you need to make a shirt for your character or even creating your Robux. The template is designed in a way that you can know the exact dimensions required for your character. The virtual nature of customizing and making your shirt adds more excitement to the game. Before technology advancement, changing the clothes to your character was difficult if at all you could have one. The most exciting part is that you can create a transparent Roblox shirt using our given template.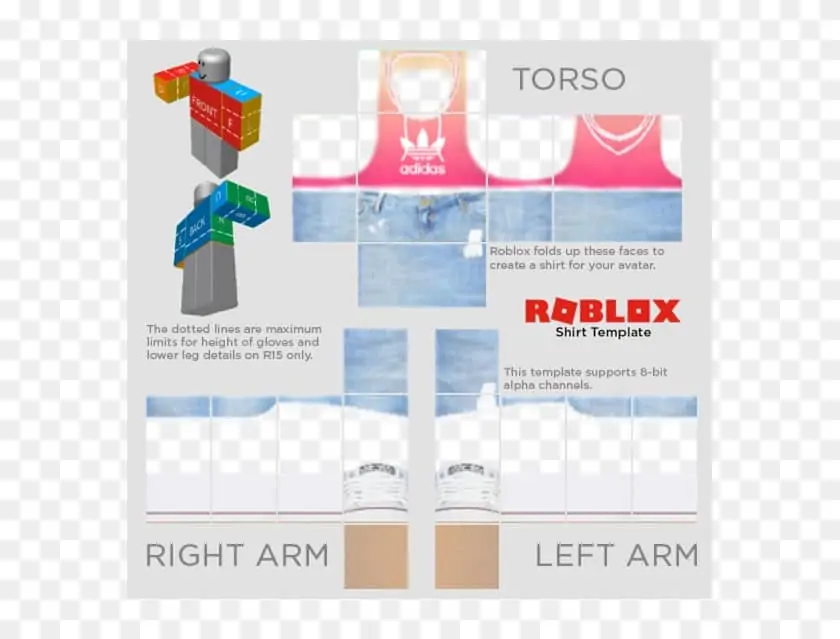 But first, what is a Roblox shirt?
A Roblox (shirt) is a transfer visible on an avatar's torso that appears on the avatar's profile and in the game. Roblox has enabled a variety of items, including t-shirts for your avatar in the catalogue. The most popular thing is the t-shirt, but other items like pants you can make for your avatar. The popularity of t-shirts is because any account user can create it, while for other things such as pants or a long-sleeved t-shirt, you need a premium subscription.
You can make accessories but only after you get an invitation to the UGC catalogue. Joining the UGC catalogue can be close to impossible since new membership is mainly closed. You can get lucky incase Roblox opens if you keep checking regularly.
How to make your Roblox t-shirt
The demand for t-shirts in the game is high, and that is why you have this bonus section.  The Roblox t-shirt is among the most straightforward items to make on the Roblox catalogue. You will need an image of 128by 128 pixels in any format. In this procedure, you do not need a template as everything is required simple understanding. You will have to upload the image, preferably an entire square, if you want it to cover your avatar's whole torso.
An interesting fact is that the t-shirt can be layered over a shirt. For this reason, you may want to accessorize your favorite shirt with a necklace or unique patterns.
For more information or guidance, you can visit ROBLOX GFX Guide.
How to create your Roblox Shirt
Unlike the Roblox t-shirt, you will need a template to create a Roblox shirt. A shirt can either be long or short-sleeved – the decision depends on your taste. Each box on the template has an assigned colorthat guides your decisions. When designing the shirt template, you are required to develop on every side of the avatar. Therefore it is essential to always have a 3-D visual in mind.
Roughly your shirt template will have a 559 length and a 585 width. The template will automatically calculate and fix all dimensions, saving you all the work. The template is self-explanatory.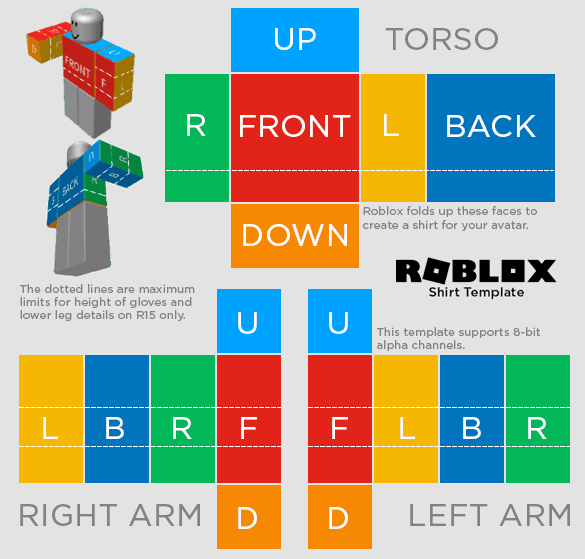 The tile labeled front (F) will lie on your avatar's torso; all of them are red. The tile labeled back (B) will cover the back of your avatar in dark blue color. The tile labeled up (U) will cover the shoulders of your avatar in a light shade of blue. The orange tile labeled down (D) will protect the palms of your avatar. The two remaining tileslabeled R and L in green and yellow colors will cover the right and left hands of the avatar both on the inside and out, respectively.
Now that you have a visual of the template, you need to follow the steps below to design your shirt.
Step 1: Ensure you have a Roblox premium membership
Step 2: Copy the template to your device
Step 3: Select the editing app that will design your shirt, such as MS Paint, Photoshop.
Step 4: Add more character to the template through colors and even images
Step 5: After you are satisfied with your creation, save and follow the uploading process.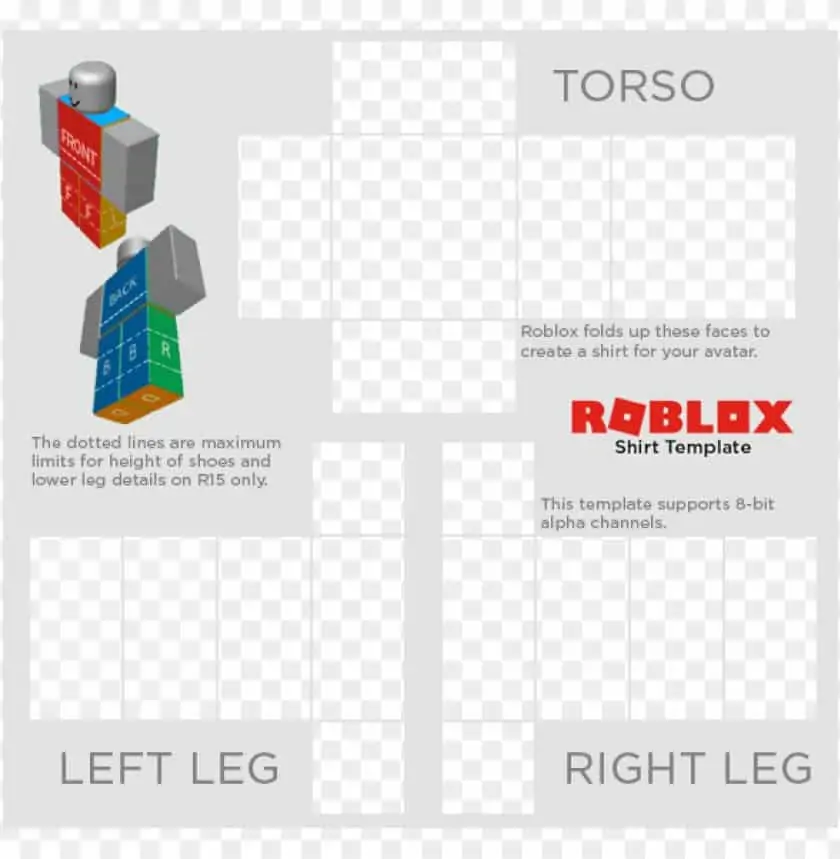 How to create a shirt using the transparent Roblox shirt template
The template is used to make shirts with cut-outs or anything different from the standard Roblox shirt. The cut out areas will reveal what is underneath the shirt, and hence it is advisable to have something underneath the shirt as you please.
The creation process of this shirt is not complicated as long as you have the basic knowledge of creating the standard shirt.
Step 1: You should have a premium membership
Step 2: Save the template on your device
Step 3: Choose the app you need to edit your template
Step 4: Make any change to the template
Step 5: Save and upload using the instructions provided.
You will need to save the shirt as a PNG for the system to transfer the changes effectively.
Roblox pants template
Apart from the shirts and t-shirts, Roblox allows you to create pants to clothe your avatar fully. Designing the pants may take a little longer than making a shirt.
Just like the shirt template, the Roblox pants template is coded well enough for easy understanding. However, it would be best if you had a great account before you upload. Below is a sample of how the template appears.
Step 1: Have an active premium membership
Step 2: Save the template to your device
Step 3: Choose the application you want to use for editing and designing
Step 4: Design and edit the template
Step 5: After completing the process, save and follow the uploading instructions
How to upload your creation
After saving your design and edits on the template, you will follow simple steps to upload it.
Step 1: On Roblox, go to create tab
Step 2: From the drop-down list on your left-hand side, choose what you want to upload
Step 3: Choose the file with your design
Step 4: Name your apparel and upload
The uploaded item will appear as a temporary icon with editing features. Before you start using your item, it will have to go through a moderation process which usually takes a few hours and a maximum of ten hours.
You can sell your items once uploaded by following the terms and conditions of the game.
What is behind Roblox popularity?
Roblox does not do a lot of marketing campaigns like other companies do but relies on affiliate marketing. A user invites a friend to play the game, and the invited person asks another, and the process goes on.  The other way that Roblox got so popular is through YouTube videos. People watch other people enjoy the play raising curiosity in the audience.
We are in an era that children have less physical activities or spend less time outside. Therefore parents use other ways to keep their children busy by getting thosemobile electronics. It would thus not be surprising that Roblox is babysitting some children. Previous generations had more activities to do outdoors, and the internet and technology were not as advanced as it is now.
How can you make a game for Roblox?
Roblox has allowed people to make games and share their experiences virtually. The company has over 2 million creators, which is approximately 2% of their players and has more than 100,000 games played simultaneously. Children have taken the opportunity to create even the simplest of games to hang out with their friends. Huge creators, on the other hand, used the chance to develop complex games, which earns them money through the in-app game purchases in Robux currency. With the growing number of creators and players, the company is paying out millions of dollars.
Roblox is giving back to the community by launching a curriculum for educators to use, and it can be found in a Creative Common License. In the first year, the curriculum reached about 500,000 children.
Can I make money out of this game?
Yes. A lot of people are earning a living out of Roblox. An 18 year old, Josh Wood, is a game developer and creator for Roblox. He discovered the game in 2013 and started making money out of it years later through creating games.  Later on he began collaboration with people on other projects.
With the knowledge gained over the years Wood has set up his own company which employs people to develop, test and launch toys based on his game and for Roblox. The money he gets from all his projects has seen him through university and expands his business.
Abby Leigh is also a young developer who started out at Roblox. She started playing Roblox games in 2011 and invested in developing in 2017.
If you are passionate about gaming and developing games it is your cue to start playing and investing now. The positive side of Roblox is that it directs your child's passion into software development an important career in the new age.
Is Roblox safe for children?
Media has painted a negative image of Roblox but it is not because of the games but because of the people playing the games. The negative image has affected how parents feel about their children playing on this platform. People who are after children are everywhere but since this is a popular game it might have been blown out of proportion. The best advice for parents is to always supervise their children when doing anything online. Perverts prey for children in every site and might use a gaming platform to link with them in other apps like Skype.
A lot of children are obsessed with Roblox especially preteen ones. The in-app purchase and premium is one of the places children spend a huge part of their allowances. The company makes money through Robux created by in-app purchases- $ 10 dollars can get you about 800 Robux.  Children use the opportunity to play and interact with their friends. It can help shy or introverts make friends online. However, as a parent you should always supervise the interaction.
Parents can make the gaming experience turn into a learning experience. The course offered by Roblox can help children learn coding for game development.
Final Verdict
Roblox is just a platform which gives gamers a chance to exhibit their games and explore many other game options. You and your child will be spoilt for choice on which game to play. I can say this a million times; do not let the game baby sit your child. Once in a while pop up to see what they are doing and who they are talking to. Some dangerous people might disguise their identity and cyber bully your child.
If you feel you are not aware of what they are buying make a point to look it up. Create an open and honest communication channel with your child. It will help your child open up to you and tell you if anyone is trying to chat with them inappropriately. If your child is interested in coding you can download the Roblox software and find videos online to help them code and create their games. Gaming is a chance for your child to learn new life experience. You child will have the opportunity to fit will in the future when they learn to code effectively.
Related posts