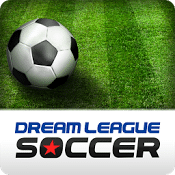 If you are a real soccer/football lover and want to enjoy something new and exciting on your android smartphone in the football genre then you don't have to go for the popular Fifa or PES franchises because they have become boring over time so you deserve something new and amazing to excite up your day. Just download and install the all new and amazing Dream League Soccer game on your android smartphone and you will be on the pitch in a fast paced soccer game where you are in control of every small thing. This amazing game requires very less space then the Fifa games but still delivers the most amazing soccer action on your android smartphone. If you are a true soccer fan then you will fall in love with this game due to the great gameplay style and fast paced soccer action. Use our in depth transfer system to build the team of your choice! Sign players using coins or even spot a bargain in the free transfer market! Develop a team of up to 32 players for the ultimate experience, including the ability the create your own players. You get to build your dream soccer team in the Dream League Soccer game. You can transfer players and acquire new talented players to boost up your squad. Once you have built your superstar squad then you have to win the championship and become the best squad in the history of soccer in this amazing fast paced soccer game on android.
Dream League Soccer is the perfect game for all soccer lovers on android and it delivers the best gameplay experience on your android smartphone. Playing this game feels like you are playing a console quality soccer game on your android smartphone.
Download and install Dream League Soccer on your Android smartphone
You can download the amazing Dream League Soccer game on your android smartphone for free from here and build your dream team in the soccer game.
Related posts