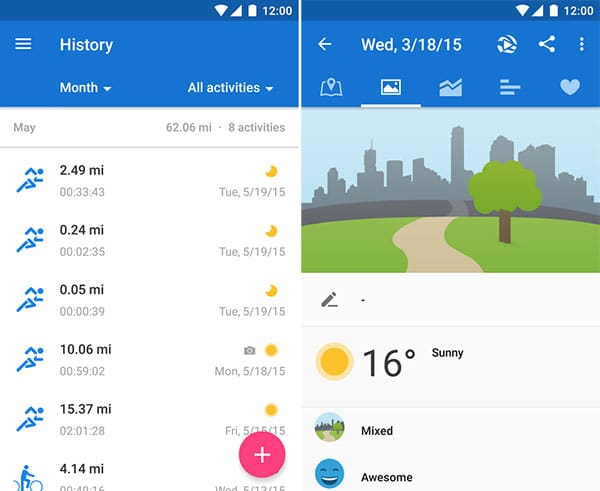 Take your fitness to a new level with Runtastic PRO: The best fitness & running app tracker on Android!
Ready to get in shape? Get started to with the Runtastic GPS Running & Fitness PRO app and start tracking your fitness activities (distance, time, speed, elevation, calories burned & more) – such as running, jogging, biking & walking using GPS. Plus it's fully optimized for Android Wear. Ready to run?
On top of tracking your fitness activities, the Runtastic Running & Fitness app provides you with many more features to improve your fitness and ensure you're enjoying your workout. Additionally, you will be a part of a global fitness community for extra motivation and tips and tricks from professional coaches to help you reach your fitness goals.
PRO APP FEATURES:
* Voice Coach: Audio feedback based on your personal preferences
* Auto Pause: Session is paused automatically when you stop moving
* Runtastic Earth View: Watch workouts in 3D (free Google Earth App required)
* Routes: Create or find exercise routes, sync them to your smartphone
* Interval training, coaching and dynamic split (km/mi) tables
* Training Goals: Select heart rate zone, calorie goal or pace goal to optimize training
* Challenge a Run: Compete against yourself by challenging past activity results
* Colored Traces: Colors indicate training changes, incl. pace, elevation, slope
* Geotagging: Take pics during exercise & view photos online with map trace
* Powersong: Activate to boost workout at just the right moment
* Use for running, jogging, biking, skating, cross country skiing & hand biking
* Ad free
APP FEATURES:
* Map workouts in real-time with GPS & monitor exercise progress
* Personal training diary, advanced statistics & graphs
* LIVE Tracking & Cheering: Share location, receive messages for motivation to run further
* Mapping: Detailed live mapping & historic mapping (Google Maps)
* Customizable dashboard configuration: Display preferred training statistics
* Use Runtastic Training Plans to make progress & reach fitness goals
* Manual entry of workouts: Add treadmill, spinning & weight lifting workouts
* Monthly & overall metrics: Distance, number of workouts, duration & calories burned
* Post-activity details: Enter mood & surface info, receive hydration recommendation
* Orbit Connect: View activity stats on Runtastic Orbit, our new 24-hour wearable
* Integrate Runtastic activities to your MyFitnessPal account
* Share sports activities on Google+, Facebook & Twitter
* Enjoy music with Google Play Music, Spotify, Pandora, SoundCloud & more, directly within the Runtastic app (available on Android 4.4 only)
* Control your Runtastic app with Android Wear: Start a run or bike activity via voice command, read your favorite stats from your wrist & display your post-workout session details, including maps, on Android Wear.
* LiveWare™ extension for Sony SmartWatch
RUNTASTIC.COM
Save workouts to Runtastic.com! Get further exercise data analysis, coaching & comparisons with friends! These benefits keep you motivated while striving to reach fat burning, cardio training or overall health & wellness goals.
ADDITIONAL TRAINING RESOURCES
You can also choose an expert training plan to reach your goals. Training plans provide coaching & inspiration for fitness goals, incl.: weight loss, building endurance, jogging a 10k, running a half-marathon, running a marathon or attaining a bikini body! Further health and fitness tips are available on the Runtastic Fitness YouTube Channel – your subscription is FREE. And, Runtastic has partnered with Universal Music – the world's undisputed leader in music publishing – to help users increase motivation, workout length & calories burned! Let's go!
WHAT'S NEW
New in Runtastic Fitness & Running
* Shoe Tracking: Keep track of the mileage on your running shoes! Stay safe and injury-free while keeping your feet happy with Shoe Tracking. All you have to do is add your shoe. We'll track the mileage and let you know when it's time to retire your running shoes for a new pair
This app has no advertisements
More Info:
https://play.google.com/store/apps/details?id=com.runtastic.android.pro2
Download Instructions:
Related posts