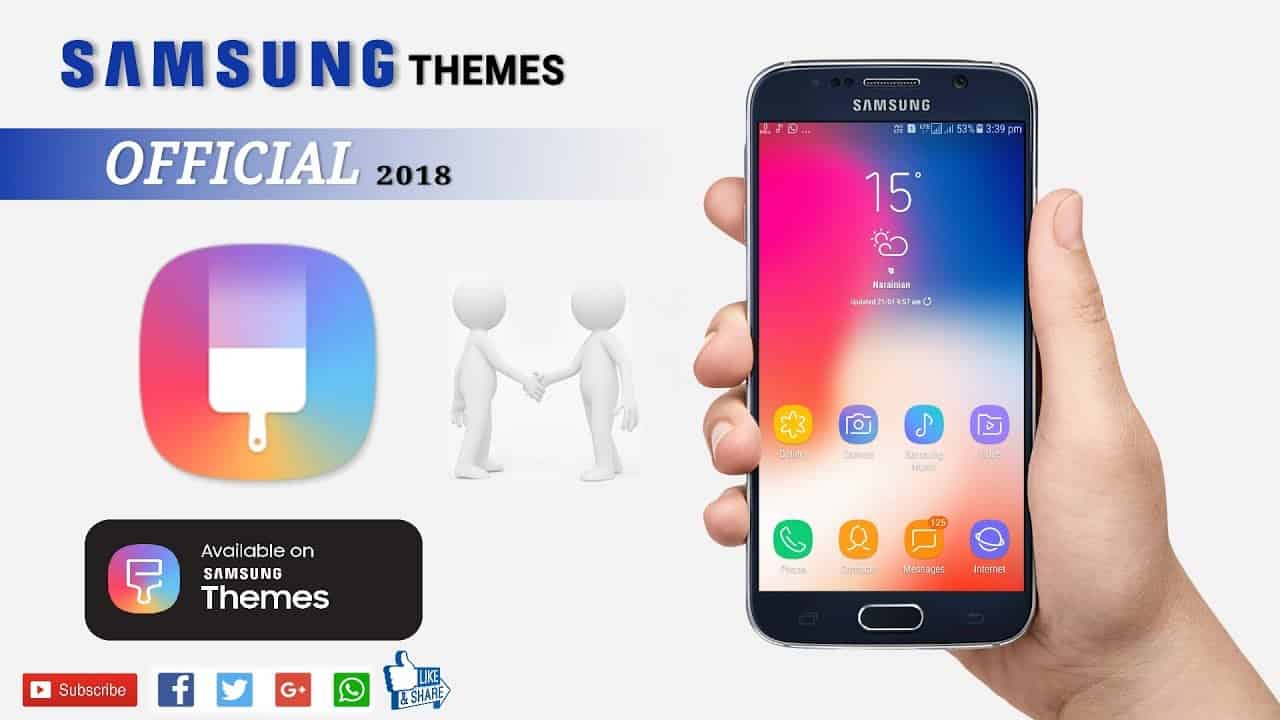 Samsung devices are popular not only for the hardware specifications but also for the After Nougat update, the ROM has been Samsung has its Own SDK (Software Development Toolkit) available for developers to make apps, themes, Icons, etc. for TouchWiz Home. The SE 9.0 firmware also comes with a theme engine. This leads to a multitude of topics available for the Samsung Galaxy devices. So here we have a collection of the best free Samsung Themes available on the Market.
In this article we are going to show you how to download, install and apply the Samsung paid themes for free from Samsung theme store no Root Needed.
How to Get paid Samsung themes for Free Without Root
Theme store let you download paid themes for free and let us apply the theme for 5 Minutes trial time to preview the theme weather its worth of pay or not. Luckily we can bypass the trial time for unlimited usage like the paid one.
1. At first you need a Samsung phone, which has the galaxy store support. Now open "Settings> Themes" Then tap on "More themes".
2. At next look for any of the payment theme and tap on it to view details and download / Buy or trial the theme. Now you have to Hit on "Download Trial" button it will start downloading, after completing download you can Apply the theme by Click on "Free Trial".
3. Once you are activated free trial it will let us use the theme for 5 minutes. Now Download  the Package Disabler App  and install on your phone.
4. Now open the App and Accept the permissions requested by this app, Once you are in the app's list page, search for the keyword "Theme", You'll find the two apps called Theme store and Themes. You have to make changes on both apps one by one. Paid Samsung Themes
5. First you have to select the Theme store from the search result and it will show a menu, Tap on "Clear data". Thats all now come back and select the "Themes" from the search result then click on "Disable" button.
6. Thats all you are done. Now the paid theme will be always have available on your phone without being paying money. And mind one thing if you want to restore default theme or choose another theme you have to Enable that "Themes" app from the Package disabler app.
Here are some of the Best Paid themes you should try:
Blue flowerNougat AuroraMinimalist Pink Card UXGalaxy Note 5 The symbolic view of USAInfinity W/ Backgrounds Material DesignDark Knight iOS10Onyx
Like these, there more than 100s of themes available and you can either download and use them without making the payment.
We even leave you a video guide for better understanding:
Remember that this samsung paid themes hack is currently working on the Samsung Galaxy S6 & S6 edge , Samsung Galaxy S6 edge +, S7, S7 edge, Samsung J7, J7 prime and some of J2 devices and almost all of the devices that has theme store feature. Some devices like Samsung Galaxy Note 5 don't have the theme store. I hope this guide will help you to Download paid samsung themes for free. Don't forget to share this article with your friends.
List of Free Best Samsung Themes on Galaxy Store you must try:
Canvas by 'Pabodi Upekshala'
Sparkling by WoOS_Design
sandbeach by maihe
Dark Mint by MINU EiD –
Brown AmyOS Space V1 by THENEW
Related posts